When you think of the companies that control the automotive industry Hyundai is among them. Hyundai is an automotive giant that has earned a reputation all around the world. Spotting a Hyundai car today is not a challenge at all. Even with millions of Hyundai vehicles around the globe a lot of us do not know, who makes Hyundai?
Hyundai is known for its cheap economical cars, they are often much cheaper than other marques while still maintaining quality and performance. Hyundai has manufactured a ton of cars that were a huge success in the US. The 2020 Hyundai Sonata Hybrid, 2020 Santa Fe, and 2021 Kona are all ranked No. 1 in each of their respective classes.
A lot of people do believe that Hyundai is manufactured in Japan. After all other auto giants like Toyota and Honda hail from Japan.  They do manufacture overseas in more than half a dozen countries. And if you've been keeping up with the gossip you should know that there is a connection between Hyundai and Kia. Are the two same, is Kia and Hyundai the same brand now? Keep up to know who makes Hyundai, and what splits Hyundai and Kia.
Origin Of Hyundai
If you think that Hyundai is originated from Japan you are mistaken. It is easy to mistake that Hyundai comes from Japan since Hyundai shares a lot of similarities with other companies from Japan. After all, Hyundai is from Asia, but not Japan.
Hyundai is originated in Korea. It has progressed much farther than other companies in the industry in just 50 years. The company was a huge step forward for the country itself. It helped to mobilize South Korea and drive the country into the modern era. Their ambitious mindset and will to explore new technology and take daring leaps to manufacture cars for the future has made them a successful company in a relatively small period.
Since the company was formed in 1967 they have been pioneers of modern technology.
Who Founded Hyundai?
The founding chairman of Hyundai was Chung Ju-Yung. Chung Ju Yung was born in 1915 into a poor family, just like many others in Korea at that period. At the age of 18, he moved to Seoul with hopes of a better life.
He did not succeed with Hyundai as soon as he moved out. He had a rough journey before even hoping to start a car company. Mr. Chung had to juggle many jobs before he started as an entrepreneur in 1938. He first opened a rice store which faced many adversities before failing.
After the liberation of Korea from the Japanese forces at the end of World War 2, Mr. Chung went into business repairing trucks for the U.S. military. This eventually led him to create a multi-billion dollar construction company. He took the construction company overseas in his venture to reach a global audience.
He ventured into many routes including the manufacturing of ships. Even though he did not have a lot of experience with building ships he still went on to start manufacturing ships and today Hyundai is the largest manufacturer of ships in the world.
The multiple paths he took after creating a construction company led him to the automotive business and today Hyundai is a leading automobile manufacturer. From humble beginnings, Chung Ju Yung reached unimaginable heights purely through hard work and imagination.
Early Years And Growth Of Hyundai
Chung Ju Yung founded Hyundai as the Hyundai Engineering and Construction Co back in 1947. The sole intention behind the company was to promote the country's industrialization and reconstruction after the war. The Hyundai we all have come to know of today is a motor company. This was established in 1967 as Hyundai Motor Co.
The first Hyundai car was released in 1968 in the form of the Hyundai Cortina. What is interesting about the Hyundai Cortina is that it was produced with the partnership of Ford Motor Company. The success of the Cortana inspired Mr. Chung to pursue automobiles further.  From 1975 to 1985, Hyundai released the Pony and set on a massive production and exportation venture globally.
The company was advertising and promoting their cars to challenge other top-of-the-line manufacturers at the time. Hyundai did not make it to US soil due to their poor emission standards until 1985. The first Hyundai car to set sail in the US was the Hyundai Excel. Sales blew up in the US when the car was introduced.
From the 90s and moving forward to the modern age Hyundai made sure to keep the momentum going. They afford relatively cheap cars that were also highly reliable. The 10 year warranty period attracted a lot of customers.
Today Hyundai is the 5th largest auto manufacturer in the world.
What Is Meant By Hyundai
The name itself has a meaning when you look at it from a Korean perspective. In Korea, "Hyeondae" means 'modernity' or 'contemporary'. It stands for the company's commitment to forward-thinking when it comes to quality car manufacturing. Since the term, "Hyeondae" might be hard to pronounce for non-Korean speakers, they stylized it as "Hyundai" to make it easier for global customers to read.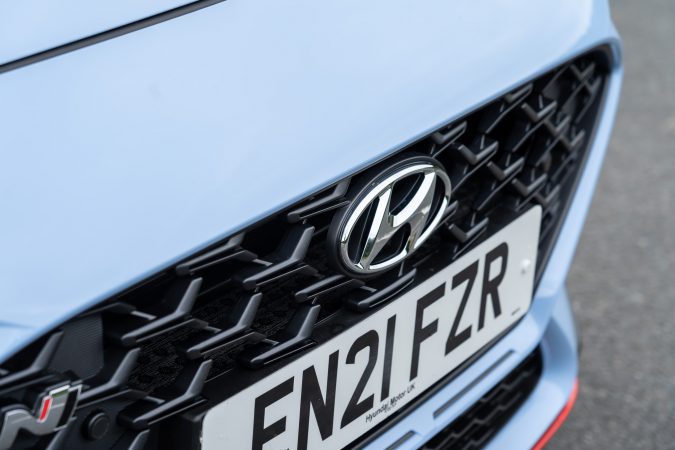 The Hyundai logo that we often see today is not the logo that the company started with. The Hyundai logo was extremely different in appearance compared to today's logo. The letter 'HD' was the face of the company when it started. It was a monogram in black and white typed in bold letters and surrounded by a rectangle that was also in bold.
This was the logo that was attached to every single car that left the Hyundai production line. From 1974 to 1992 this was the official Hyundai logo. In the meantime, in 1986 the company started working on a new logo.
The new logo was quite different from its previous logo. This time it was not a monogram and instead, it was essentially a nameplate. This was a common logo design that was seen in Asian cars during the period.
Current Logo
All these evolutionary steps made by Hyundai have paved its path to today's era. The companies logo as of now is made to modern and stylish. The changes in the logo in the past few decades prove that Hyundai strives to be a visionary in the world of cars.
The current logo of the company is quite straightforward. The stylish 'H' represents the name Hyundai. Along with the cool looks also consists of hidden meaning.
The 2 verticle lines of the letter 'H' depict the picture of two humans. This symbolizes the customer and the company. The horizontal line that goes across the center of the letter 'H' indicates a handshake. The handshake expresses a bond and a partnership between both entities.
Not a lot of people know about the meaning of the emblem but still, it gives a friendly vibe at first glance. Other than this hidden meaning the style also creates a heartwarming feel. The lack of sharp edges and the incorporation of curved soft edges make the entire look smooth and trustable.
There are a lot of great thoughts behind the creation of this logo. It might appear as one of the simplest logos in the automotive industry but it still has a lot of depth and meaning.
Where Is Hyundai Produced
There is no exact answer for the question, "where Hyundai is made"? The only viable answer for the question is Korea. Korea is where Hyundai was founded and as of today, Korea is the largest producer of Hyundai vehicles.
Korea consists of 3 Hyundai production plants, which combined have a capacity of producing over 1.86 million units a year. The plants are located in Ulsan, Asan, and Jeonju.
Out of the above Ulsan is the largest production plant. This factory sits in a 1200 acre area, consisting of 5 separate production facilities. It consists of 34,000 employees and can produce 5600 cars daily. If you were wondering, yes, this is their largest automobile plant. Apart from these the plant also consists of its port.
The plant is the birthplace of the Korean automobile industry and is a self-contained facility that operates its fire station, hospital, and security vehicles.
Apart from the Ulsan plant Hyundai also consists of Asan and Jeonju plants in Korea. The Asan plant specializes in producing mid to large-size passenger vehicles. This independent automobile production plant is capable of producing 260,000 vehicles annually.
The Jeonju plant is in charge of producing larger industrial vehicles like buses and trucks. This 317-acre facility can produce 70,000 units a year. This is deemed to be the largest production plant of commercial vehicles.
International Production Plants
Hyundai has over half a dozen production plants spread around the globe. This is the reason why there is no exact answer for where Hyundai is made. Hyundai production facilities are situated in the US, India, Russia, Brazil, Turkey, China, and Czech.
The facility in the US was opened in 2005 in Alabama. The $1.1-billion factory was the first Hyundai plant in North America. Though this is not the biggest this is the most technologically advanced production plant in Hyundai's arsenal.
This facility is capable of producing 300,000 cars in a year. Production in this facility started with the Sonata sedan in 2006. A bit later in 2006 they also started manufacturing the Hyundai Santa Fe in Alabama.
One of the biggest overseas plants for Hyundai is situated in India. Hyundai Motor India (HMI), a wholly-owned subsidiary of Hyundai Motors. This is the second-largest carmaker in India. The extension or the 2nd plant in India was built in 2008, a decade after Hyundai first set foot in India. This plant is capable of producing 600,000 cars every year.
Hyundai And Kia
This is a huge complication that is commonly seen today. So what is the story behind Hyundai and Kia? Are both Hyundai and Kia the same? And will Kia turn into Hyundai shortly?
Both Hyundai and Kia are from Korean manufacturers. And it is safe to say that both the companies have seen unimaginable success in recent years. Both the companies have almost similar beginnings. Especially in the US.
Both companies started as budget car options in the US. With time, sales, and a ton of positive reviews, today Hyundai and Kia both have reached a reputable position in the North American market.
With both being so similar when it comes to the features offered in their cars, and since they share the same grounds when it comes to reliability and performance ratings it is easy to mic up one another.
Early Days Of Kia
Kia started a few decades earlier than Hyundai. Kia was founded in Korea in 1944 and started production almost immediately in 1947. This makes Kia a couple of decades older than Hyundai. Unfortunately, Kia didn't see the similar success that Hyundai was receiving.
They started as manufacturers of bicycle parts. Later on, they started making complete bicycles and followed that up with fully functional motorcycles. The first time Kia ever saw automobiles was when they started manufacturing trucks for Mazda in 1962.
A few years later Kia started producing vehicles of their own. Due to industry consolidation enforced by military dictator Chun Doo-hwan, the Kia company was limited to producing trucks until 1986. This restricted Kia from manufacturing cars until 1986.
So how is Hyundai connected in all of this drama? Other than the fact that they are cars produced in the same country they also have something else connecting them. In 1997 Kia officially filed a statement of bankruptcy during the Asian financial crisis. This changed the relationship of the 2 companies forever.
After Kia claimed bankruptcy, in 1998 Hyundai purchased 51% of Kia. Thus Kia and Hyundai became partners. With Hyundai owning most of the company, Hyundai Motor Group was formed.
Are Hyundai And Kia The Same?
The answer is no. Even though Hyundai owns Kia they are still completely different companies. Kia and Hyundai are more like partners. Hyundai and Kia have a strange, symbiotic relationship. They share factories, parts as well as engineering know-how, and product testing duties. While they share a lot they continue to stand separated as 2 different companies.
In fact, by 2013 Hyundai Motor Group reduced its ownership of Kia. Once Kia started gaining enough prominence in the European and North American markets they are now capable of standing on their own 2 feet.
Hyundai Motor Co. currently owns around 34% of Kia Motors. Today, Kia also has a stake in some of Hyundai Motor Group's subsidiaries.
Best Hyundai Cars
When it comes to reliability the first cars that come into mind are the Japanese brands like Toyota and Honda. Along with them  Gerrman brands like Mercedes and BMW are also to be mentioned. In the 21st-century names like Hyundai should also be mentioned among the most reliable cars.
Hyundai has also built a good reputation in reliability. According to consumer reports, Hyundai is the 6th most reliable car in the US in 2021. Hyundai only stands behind Mazda, Toyota, Lexus, Buick, and Honda.
Another key factor that influences reliability is the warranty. Here Hyundai has an excellent reputation. Hyundai offers 5 years or 60,000-mile warranty. This also comes with 3 years or 36,000 miles maintenance warranty. For gasoline, hybrid, and electric powertrain cars the warranty is much better. Hyundai offers 10 years or 100,000 miles for the above-mentioned cars.
Here are some of the best cars produced by Hyundai.
Most Reliable Hyundais
Hyundai is very popular for its sporty SUVs. While almost all their SUVs are rated highly in reliability, some of them stand out. And one of those SUVs is the Hyundai Tucson.
Hyundai Tucson
The Tucson is rated top 5 in the SUVs in that class on the JD scale. It is swift, sleek, stylish, and tech-savvy. Most importantly it is a car that customers always return to.
The Tucson was released to the world in 2004. This makes it the 2nd oldest car that is still produced by Hyundai. This is a car that has won several awards along with high praise. Tucson has excelled in all kinds of rating systems, making it one of the best cars Hyundai has ever produced.
If you are looking for a compact SUV the Hyundai Tucson is one of the best options. Also, keep in mind it is also cheaper than most other options.
Hyundai Elantra
Hyundai Elantra is a sedan produced by Hyundai, that has earned quite a reputation recently. You can also purchase a Hyundai Elantra for just under $20,000. There are many variations and prices might vary according to the model you buy.
Like any other Hyundai, this one is worth the price tag as well. It is fairly comfortable, and if you choose the performance version of the car, the engine has enough power to offer you a thrilling ride.
Hyundai Venue
One of the newer addition to the Hyundai family is the Hyundai Venue. Another compact SUV has earned its reputation as one of the best SUVs in the market. Even though the SUV is relatively new, it is still receiving a lot of positive reviews.
What To Expect From Hyundai In The Future
When you look at the future of Hyundai, you should also think about Kia. Though they are not the same company they prepping for a joint effort for the future. The entire Hyundai Motor Company has a lot planned for the future. As the name suggests Hyundai is a visionary and they are planning to propel the automotive industry to the next step.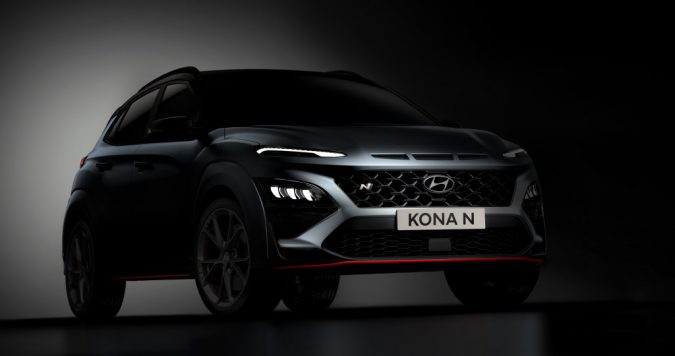 In terms of the future of Hyundai and Kia, alternative fuel sources cannot be left out. Other than the dozens of cars they've planned for the future, their arsenal of electric vehicles standout. Both companies have made official statements to release dozens of electric cars in the next few years.
Hyundai SEVEN Concept
If you are keeping up with talks of Hyundai motor company you would be aware of the Hyundai 7 concept. The 'SEVEN' concept is based on a new range of all-electric battery-powered SUVs.
These differentiated design and technology innovations prioritize customer values over industry norms. SEVEN is also a clear representation of Hyundai's commitment to carbon neutrality by 2045. With this program, they are planning to take the SUV and rebrand it as a living space.
This is would make SUVs much more than a mode of transportation. The interior will comprise the greatest luxuries anyone could imagine. It's all part of what Hyundai describes as its "future vision of autonomous mobility", which previews how advances in self-driving capability could influence the interiors of upcoming models.
This is just the tip of the iceberg when it comes to the visions of Hyundai.
Hydrogen-Powered Cars
As mentioned earlier Hyundai's exploration to find alternate fuel sources is beyond imagination. Toyota is not the only car company that is invested in hydrogen. Hyundai recently spent $1.1billion on hydrogen fuel cell system plants in their home country.
This will allow Hyundai to cease the hydrogen-powered automobile market. This plant will be able to produce hydrogen fuel cells by the latter end of 2023. At full capacity, it will be able to produce 100,000 cars annually. It will join Hyundai's current Chungju plant, which currently produces 23,000 hydrogen cell systems a year.
Hyundai is planning to invest in fuel cells much further in the future. That is much further than the automobile industry. The company plans on connecting this technology with machinery.
Hyundai Vehicles: Facts You Need to Know
Hyundai Motor Company is a global company that manufactures all kinds of vehicles and is positioning itself as a leader in environmentally responsible cars.
Hyundai was started in 1947 as an engineering and construction concern and was founded by Chung Ju-yung.
Hyundai vehicles are manufactured across the globe, with South Korea having the most plants in three locations: Ulsan, Asan, and Jeonju.
The Hyundai Motor Group owns the car company, and the group is publicly traded, with holdings in the Genesis brand luxury car, robotics, infotainment, construction, steel, and finance.
The Hyundai Motor Company produces its Hyundai-branded vehicles and has ten manufacturing plants around the world.
Hyundai and Kia make the engines for their cars, with some crossover between the two companies in engine models.
Hyundai bought out Kia in 1998 and now owns about a third of the company. Today, Hyundai and Kia are more or less sister companies.
Hyundai vehicles are made in Montgomery, Alabama, at the Hyundai Motor Manufacturing Alabama plant, which opened in May 2005.
RepairPal gives Hyundais a rating of 4 out of 5 for reliability, making Hyundai fourth out of the 32 brands they rated.
Hyundai Motor Company has 15 models of vehicles in production currently, ranging from sedans and SUVs to performance and electric vehicles.
Summary – Who Makes Hyundai
Hyundai is a company that came from the most humble beginnings. They are relatively late to come into the industry. Yet still, they have found a way to develop rapidly and prove to be a healthy competition to any other company.
Hyundai has come a long way from being bargain bin cars. They are now one of the most reliable cars in the market. What makes them special is that even with all the development they continue to make affordable cars.
You could have mistaken Hyundai for a Japanese car in the past. With the latest accomplishments, Hyundai has made sure no one makes that mistake again. This Korean maker has bright ideas for the future. By implementing them they might revolutionize the industry.