Are Mazdas good cars? We're going to get straight to the point: yes, they are. Specifically, their recent models are very, very good. Don't worry, we'll elaborate further on why we think they're good cars.
We'll give you our five reasons why we think Mazdas are good cars, answer your questions, and of course, give you some of our recommendations on which models you should consider.
Are Mazdas Good Cars: Reasons Why They're Good
Let's not beat around the bush, here's our justification on why we think Mazdas are good cars:
1. Why Are Mazdas Good Cars? They're Reliable
First and foremost is reliability. If you're buying a sports car or an exotic car, reliability isn't going to play as big of a role – although a reliable sports car is nice. But when it comes to sensible daily-driven cars, reliability is one of the most important factors. And it doesn't get any better than Mazda, quite literally.
Consumer Reports puts Mazda at the top of the ranking in 2020, with a rating of 83 out of 100. Beating the likes of Honda, Lexus, Hyundai, and even Toyota. Meanwhile, J.D. Power puts Mazda 14th in their Vehicle Dependability Study, but this still puts them on the industry average for reliability. Beating the likes of Subaru, Audi, and Ford.
Despite this difference in results, it's still clear that Mazda is reliable. While there are reliability problems, it's important to note no car is free from reliability issues regardless of make and model.
However, most of Mazda's widespread reliability problems are with their older models. Specifically with cars from the late 2000s and early 2010s. Since then, most of the problems in recent models have been quite minor, such as the Daytime Running Light (DRL) failure in the 2016 Mazda CX-5.
We already wrote about their reliability problems in great length, and you can read the article here. But the key takeaway here is that their new cars have been mostly trouble-free. More importantly, Mazda has been quick to recall their cars when there's a widespread reliability problem.
2. Why Are Mazdas Good Cars? They're Relatively Cheap To Own
What good is a reliable car if it still breaks the bank every time you visit the shop? Don't worry, while their cars aren't the cheapest to maintain, they're still relatively affordable.
We like to refer to RepairPal when it comes to ownership costs, which is a network of certified auto repair shops that provides car reliability data for consumers, including ownership costs. According to RepairPal, a Mazda costs around $462 annually to run.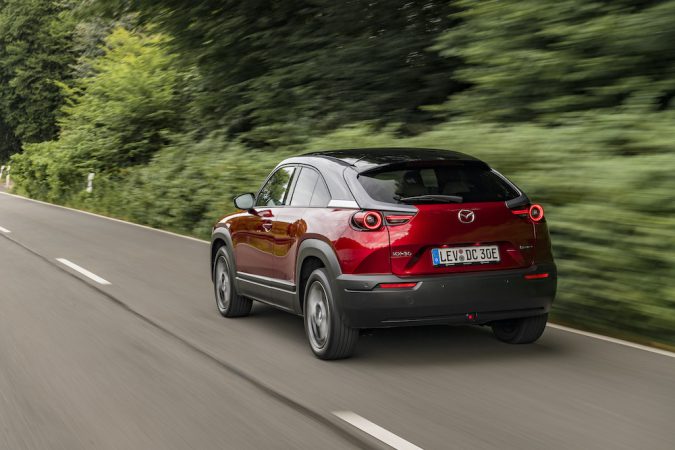 That's still slightly more than Toyota, which costs about $441 annually. And Honda is one of the cheapest at just $428. However, Mazda's ownership cost is still significantly less than the industry average of about $652 per year.
Keep in mind that this number is just for the maintenance and insurance, and doesn't include fuel costs. Additionally, it will vary depending on the model, but the average yearly maintenance cost for a Mazda is around $462.
3. Why Are Mazdas Good Cars? They're As Safe As Houses
Mazda has earned multiple accolades for safety. Their 2020 CX-3, CX-5, Mazda 6, and Mazda 3 lineup has earned the Top Safety Pick+ in 2020 from IIHS. Additionally, many of their cars such as the CX-9 has also earned a 5-star rating from the NHTSA.
This is thanks to rigid body structure, seatbelts with pre-tensioners and load limiters, multiple airbags in their cars, and more. Additionally, many of their cars come with active safety technology as well, namely the i-ACTIVESENSE.
It's basically a radar that will alert you when there are potential hazards. Such as when you're driving too close and too fast to a car in front. Many of their cars also come with a Forward Collision Mitigation system, which will brake the car on its own if it detects an impending collision.
All this means they're very safe, and a good pick if you're looking to buy a safe car for your teenage loved ones who tend to, let's say, drive rather spiritedly. You can learn more about their safety and accolades on their website.
This also means insurance is relatively affordable. While the exact cost will vary depending on the car model, who drives it, coverage, and where you live, they cost around $138 per month to insure which is about the same as the industry average.
4. Why Are Mazdas Good Cars? They're Fun To Drive
Mazda cars have always been more on the fun side when it comes to the driving dynamics, and they're leaning towards this even more in their marketing materials in recent years.
This is partly thanks to their lovely SkyActiv engines, which produce a decent amount of power without the help of turbochargers – but some models do have turbochargers.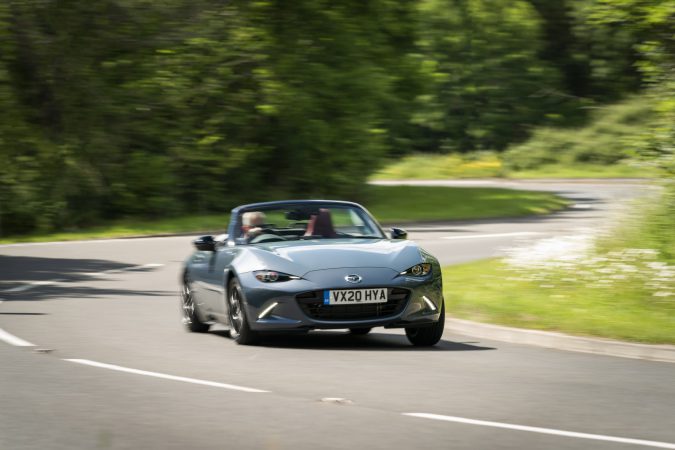 And partly thanks to a well-designed chassis, good suspension, and steering setup. Their steering provides good feedback, which allows you to feel what the front wheels are going through. You can read our review of the Mazda 3 as an example of how good their cars feel to drive.
Even their larger cars such as the CX-9 are often noted as having the most athletic feel compared to other SUVs, making it the go-to SUV for driving enthusiasts.
Mazda designs their cars with the "Jinba Ittai" philosophy, a Japanese four-character compound that describes unity between a horse and the rider. Translate this to Mazda's language it essentially means they design their cars to be tactile and responsive, making the driver feel at one with the car. Sounds a bit pretentious, and call it what you want, but there's no arguing that it works.
5. Why Are Mazdas Good Cars? They Look Good
Looks are obviously subjective, but we truly believe that Mazda makes good-looking cars. While not all of their cars are good-looking, none of them look particularly bad either.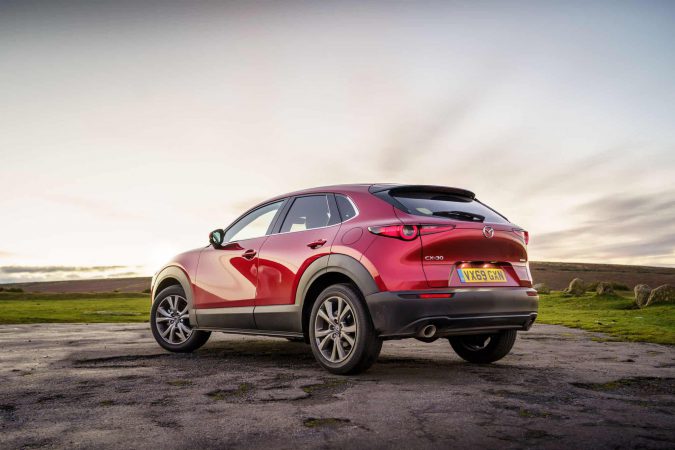 They all follow the same design language; a sensible-size upside-down triangular grille at the front, slim headlight, and nice lines and creases all around the body that makes the cars look sporty and athletic, even when they're large.
Are they the best-looking cars on the market? Definitely not, but you'd struggle to find anyone who doesn't like the looks of Mazda's current lineup.
Are Mazdas Good Cars: The Downsides
Of course, no car is perfect. Although there aren't many downsides, there are still a few that you should keep in mind:
1. Less Practical
This is true for their SUV models, specifically the CX-5 and the CX-9. More specifically, when it comes to rear cargo space. Both models are well-received by owners and journalists, but there's no denying that their cargo space isn't quite as big as it could be.
Moreover, the CX-9 has a towing capacity of just 3,500lbs. While rivals such as the Toyota Highlander can tow up to 5,000lbs, making the CX-9 a less practical option if you need to tow.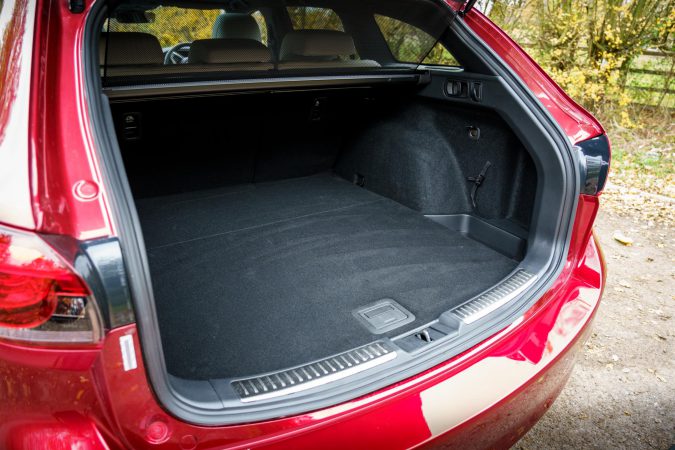 This might not be a deal-breaker for everyone, but it's something that you should keep in mind.
2. Somewhat Expensive Price
Mazda is in a land of its own when it comes to pricing. It's not quite as expensive as BMW, Mercedes, or other European and American luxury brands. But it's not quite as affordable as Toyota or Hyundai either.
To be fair, Mazda offers a slightly more premium cabin, especially when compared to Toyota or Honda. Lots of leather and soft-touch material as standard, and the build quality feels much more premium.
However, some base models lack features, which means you'll have to go for the expensive models. For example, the base model Mazda 6 lacks Android Auto/Apple CarPlay, leather steering wheel, and shift paddles amongst other things. You'll have to pay around an extra $5,000 to get the trim model that comes with those features.
3. Dated Interior
This one might also be subjective, but we do believe that Mazda's interior is getting on a bit. They're not bad; as mentioned, their build quality feels premium. But it does look a bit old – and boring.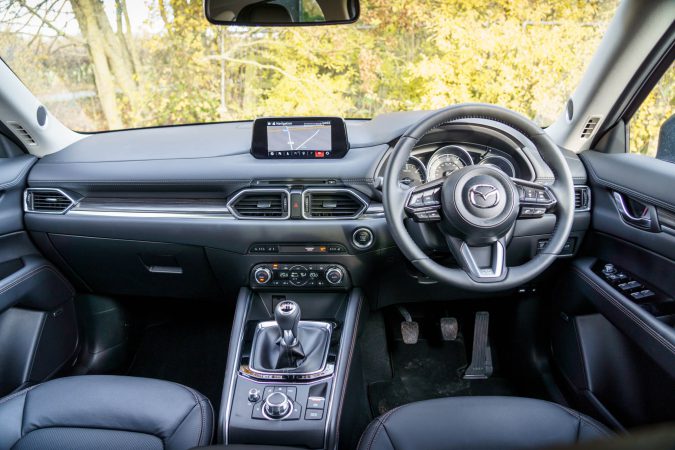 There's no fully digital instrument cluster, the steering wheel – fancy buttons aside – looks a decade old, and their infotainment screen is laughably small. It looks like an Audi interior from the early 2010s. Not exactly bad, but it is getting on a bit.
It's all just a bit dull, especially when you compare it to other carmakers. The new Hyundai Tucson for example has a very good-looking cabin. We will however commend Mazda's decision to stick with physical knobs for the infotainment system and air-conditioning controls. Not everything in a car has to be digitalized or touch-sensitive "buttons".
Are Mazdas Good Cars: Recommendations
Are Mazdas good cars? We've established yes. While there are downsides, they're fairly minor and might not be enough to put you off. Now, which ones should you consider?
At the time of writing (01/03), Mazda currently offers nine cars in the United States, with one more (which is the CX-50) coming in spring 2022. However, the MX-30 EV is currently only available in California. Here are the ones we recommend:
1. Mazda CX-9
We start with the CX-9 which as we've mentioned, is a mid-size SUV for keen drivers. The sporty feel of the steering is perfect for those who need 7-seats, but still want to attack those backroads with vigor.
However, it has to be said that the CX-9 could use a bit more power. And while the 6-speed auto is good, perhaps a manual or a dual-clutch system would've fit the package better.
Still, if you're looking for a sporty SUV, the CX-9 is the way to go before you get to more luxury choices like the BMW X3. The CX-9 starts at $35,280, but you'll want at least the $37,430 Touring trim to get things like leather seats and a power tailgate.
All models come with a 2.5L turbo engine making 250 horsepower and 320lb-ft of torque (with 93 octane fuel). All of them also come with all-wheel drive as standard, so you needn't worry if you live in colder regions.
Just in case we seem a bit biased towards Mazda, we also recommend its rivals such as the Hyundai Palisade. The Palisade starts at a lower price of about $33,150. And while it's not as sporty, we can't ignore the more powerful V6 making 291 horsepower.
2. Mazda CX-5
The CX-5 is Mazda's compact SUV available with either a naturally aspirated or a turbo engine, and front-wheel drive or all-wheel drive. It starts at $25,550, but we recommend the $30,560 Grand Touring to get the full works like the Bose audio system, power sliding moonroof, and power liftgate.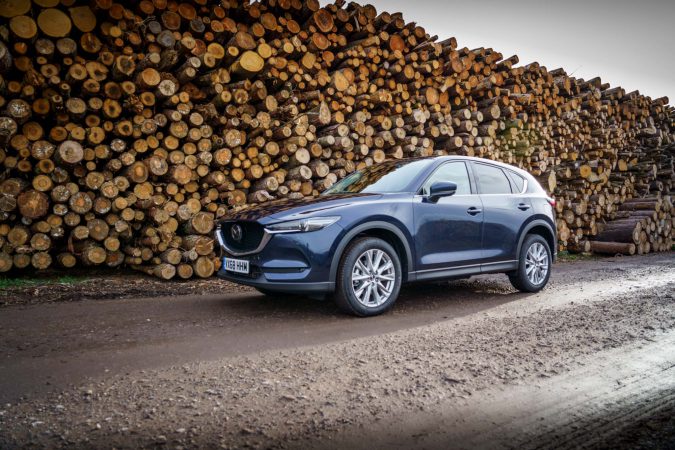 Some will say that the non-turbo engine needs a bit more oomph, but we feel that it's plenty fast enough for day-to-day driving. If you must have more power, the 2.5L turbo engine currently starts at $30,670 and goes as high as $37,505.
However, if you don't need the extra space, we strongly recommend that you consider the Mazda 3 instead:
3. Mazda 3 Hatchback
The Mazda 3 is available as either a sedan or a hatchback, we're recommending the hatchback although it's slightly more expensive. Why? Because a.) it has a larger cargo space therefore more practical, and b.) it looks much better, what more do you want?
Aside from the looks, price, and cargo space, the two cars are pretty much identical. Price starts at $22,750, but you'll want at least the Select trim which starts at $24,100. This gets you larger and better-looking wheels, keyless entry, and blind-spot monitoring.
However, if you want a manual transmission for maximum fun then you'll have to spend at least $28,350 for the Premium trim, as the lower trims are only available with an auto transmission. But if all-wheel drive is your priority, then the Preferred trim is available with that and starts at $25,750.
All of the models above come with a 2.5L engine making 187 horsepower. If you want the turbo engine with 250 horsepower, you're going to have to spend at least $31,550, and it's only available with all-wheel drive and auto transmission. Ouch.
If you don't need the space of an SUV like the CX-5, we strongly recommend the Mazda 3. Its rival that we would recommend is the new Honda Civic, particularly the Civic Si if you're looking for something sporty.
4. Mazda 6
Take a look at the Mazda 6 and suddenly the Mazda 3 seems a bit steep. It starts at $24,475, and the recommended Grand Touring model starts at $30,175. This gets you the turbo engine, a Bose audio system, wireless Apple CarPlay, and power moonroof as standard.
Rivals of the Mazda 6 include the ever-so-popular Toyota Camry, Honda Accord, and Hyundai Sonata. While they're all decent options, none are quite as compelling as the Mazda 6.
5. Mazda MX-5 Miata/RF
If you're looking for something sporty, then the Mazda MX-5 is for you. It comes as either a roadster or as a Targa (the roof still opens but behind the seats, the roof structure remains in place). Fun fact: Porsche trademarked the Targa name, so other carmakers can't use it.
Anyway, either one is fine, but the MX-5 RF (which has the Targa roof) is 51kg heavier thanks to the automatic roof mechanism, as well as more expensive at around $6,000 more.
As for the roadster, it starts at $26,830, but you'll want the $30,290 Club trim, which gets you a Bose audio system, heated seats, and a limited-slip differential in the manual version.
All of them come with a 181 horsepower 2.0L engine, rear-wheel drive, and are available with either a 6-speed manual or auto. All auto transmission versions come with paddle shifters so you can still control gear changes at the tip of your fingers.
It's not the most powerful sports car that money can buy, but the wonderful chassis and decent engine make this a compelling option for driving enthusiasts. If you're looking for other small sports cars, consider the upcoming Toyota GR86. Mind you, you can't drive the Toyota with the roof down.
How About The CX-30?
Of all the models, the ones we haven't mentioned are the MX-30 EV and CX-30. So, how about those two? As mentioned, the MX-30 is only available in California at the moment, so we can't really recommend that.
Moreover, Mazda hasn't really dabbled with hybrid and electric vehicles. This is new territory and technology for them, so we expect them to have at least some reliability issues out of the gate. We recommend Toyota or Nissan instead when it comes to hybrid and electric vehicles.
As for the CX-30, it's a fine car but it offers little value. It's slightly taller dan bigger than the Mazda 3 hatchback, there's very little added practicality. We recommend sticking to the Mazda 3 or going for the bigger Mazda CX-5 altogether.
Any Models To Avoid?
If you're buying brand new, you really can't go wrong with any of their current lineup. However, if you're buying secondhand, there's a few you might want to avoid due to reliability issues:
2009 – 2013 Mazda 3. Avoid ones with the manual transmission, whether it's a 5-speed or 6-speed. They have faulty clutch forks, car bearings, and pins, which can fail as early as 37,000 miles. In some cases, you may need a full transmission rebuild.
2007 – 2012 CX-7. These engines have valve timing issues, causing oil leaks, loose timing chains, and even engine failures. Mazda's L-Series engines are prone to this problem, but it's most widespread in the CX-7 model.
2010 – 2011 CX-9. These have brake booster problems, which lead to the brake pedal feeling spongy and a decrease in braking performance. Needless to say, this is incredibly dangerous.
There you go, those are Mazda's least reliable cars, and therefore you should avoid them like the plague. There are a few more reliability problems in other models, but they're not as serious and won't trouble you too much.
Are Mazdas Good Cars? Questions And Answers
Got any more questions? The answer you're looking for might be below: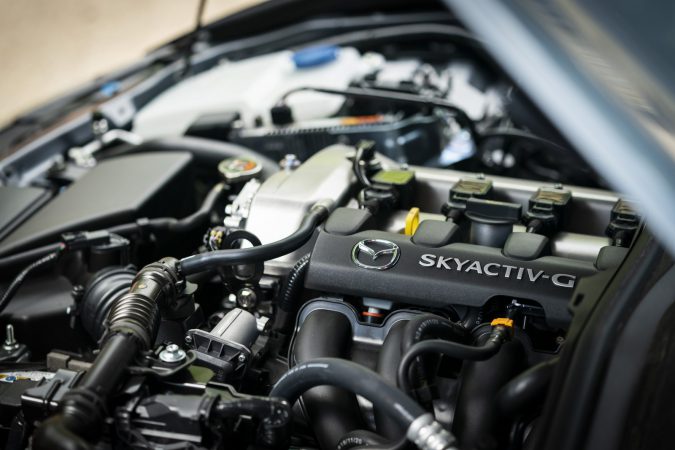 How Long Do Mazdas Last?
How long a car lasts heavily depends on how you take care of the car. If you keep up with general maintenance, don't postpone any necessary repairs, and drive carefully, you can expect them to last somewhere between 150,000 to 200,000 miles before they start developing serious issues.
Do Mazdas Come With A Warranty?
Yes, most cars now come with a warranty, including Mazda. Every brand new Mazda comes with a 36,000-mile or 3-year basic warranty, and a 60,000-mile or 5-year engine warranty.
Not quite as impressive as Hyundai's 100,000 miles or 10-year powertrain warranty, but Mazda's warranty is still decent and it gives you peace of mind.
How Much Do They Depreciate?
Mazda will typically lose about 36% of its value after five years. In other words, it will retain about 64% of its original value, at least according to CarEdge.
This means they're quite good and one of the top 10 brands when it comes to depreciation rates. Brands that are better than them include Toyota (no surprises there), Subaru, Honda, and Dodge. Ram trucks also retain their value very well, most likely thanks to their loyal following.
Keep in mind that the depreciation rate may vary depending on the model and trim. Additionally, neutral colors like black or silver typically retain their value better.
Are There Better Cars Than Mazda?
This depends on what model you're considering and what you're comparing it with. In some cases, Mazdas are plainly better, such as when you pit the Mazda 6 against the Camry.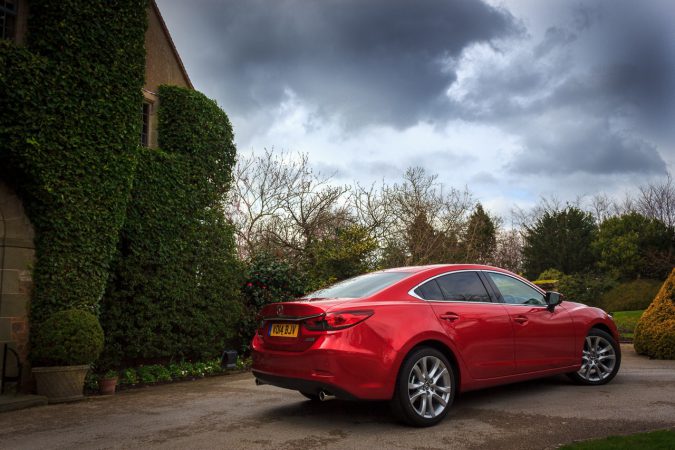 In other cases, it's not quite as straightforward. For example, the CX-9 is a compelling option, but the Toyota Highlander or the Hyundai Palisade is just as equally compelling, especially in some aspects.
If reliability and maintenance cost is a big concern, we recommend taking a look at Toyota and Honda. They're typically cheaper to buy, cheaper to maintain, and retain more value when the time comes to sell them.
List down your priorities when you're going to buy a car, then take a close look at the specs and compare them. And most importantly: take a thorough test drive before you make any decision!
Mazda Cars: Reliability and Common Issues – Facts
Mazda got its name from the god of harmony and wisdom, and the company has been one of the largest producers of vehicles worldwide since its first tricycle truck.
Mazda vehicles are considered reliable based on a survey conducted by MotorEasy, where Mazda placed 19th on the list of dependable cars.
Mazda is known for its transmission and non-electrical parts lineup, which is ranked with other reliable brands like Lexus, Honda, Toyota, and Suzuki.
Mazda has a few areas where they tend to fall short, such as reported issues with brakes and axles, and suspension, with around 40% of Mazdas needing necessary repairs in as little as one year after purchase.
The most reliable Mazdas include Mazda MX-5, Mazda 2, and Mazda 3, while the least reliable include Mazda6 Tourer, Mazda CX-7, and Mazda RX-9.
Mazda models tend to break in specific ways, such as the defective clutch system, defective Takata airbags, variable valve timing defects, and melting dashboards in the second-generation Mazda3 and Mazda6.
Despite these reported issues, Mazda vehicles are still considered reliable, as repair costs are low, and they don't come around often.
Mazda is affordable, and when compared to other cars in its price range, there are not nearly as many issues.
When purchasing a Mazda, it's essential to look at specific model problems reported by owners to determine which model fits your driving needs.
Mazda is a solid choice for a vehicle purchase, and it won't give you too much trouble. Still, drivers may experience minor issues that don't cost an arm and a leg to repair.
Are Mazdas Good Cars: In Conclusion…
So, if anyone asks you "are Mazdas good cars?" you can tell them, yes! They're very good indeed. Thanks to good reliability, fun driving dynamics, stellar safety rating, relatively affordable costs, and handsome looks.
We hope that this article has been helpful for you if you're thinking of buying a Mazda. But we can only get so much information across through writing. So, as mentioned, be sure to take the car you're about to buy for a thorough test drive to see if you like it. Good luck!