Mercedes-Benz's most desired SUV is the grand G-Wagon. Depending on the trim level, the G Wagon, also known as the Gelandewagen, is a large, boxy, off-road, vintage, Mercedes that is also the most expensive SUV Mercedes produces. But why is the G Wagon so expensive?
A new G-Wagon will cost you more than $134,000 though. G Wagons cost a lot but why are G Wagons so expensive? In essence, it's because they're strong, rare, and cool—and that's why they're so important.
Your typical Land Rover Defender or Jeep Wrangler will tow more weight, have more space, offer more power, and possibly have more capability off-road as an SUV.
However, those SUVs lack the G-Wagon's (or G Wagen's) heritage and, more importantly, its presence. On Rodeo Drive, nothing looks more right than a G-Wagon.
G Wagon Price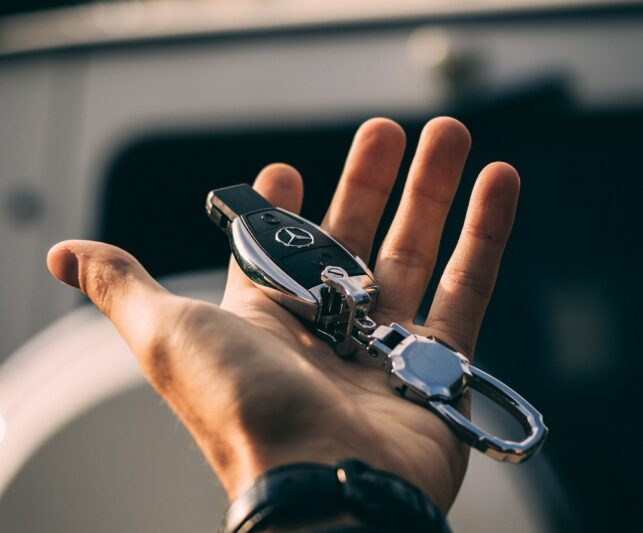 G-Wagons are unique, but why?
If we could find out why Kim Kardashian or Jay-Z, or other famous people adore the G-Wagon, we would. No other SUV has the presence of the G-Wagon.
They are owned by the famous and wealthy, and they are tall and blocky. However, they are also incredibly strong. The G-Wagon may be outfitted with the newest technology and the highest-quality leather and materials.
It boasts a huge and powerful V8 engine and full-time four-wheel drive. They are also built on a strong frame which gives them excellent off-road strength.
Simply said, a G-Wagon stands out from other vehicles on the road.
Under its trim exterior, the G-Wagon had not changed since it was introduced in 1979.
The G-Class, as it is now known, received a big facelift from Mercedes in 2019 with a longer wheelbase and a variety of choices that represent its Beverley Hills customer base. It still rides like an off-road SUV underneath, though.
The starting price of the 2022 G-Class, which is no longer known as the Gelandewagen, is $134,300. But the G-Class can get as pricey as you can imagine.
The G550's twin-turbo V8 is in its base model, and with a few optional extras, it can easily top $150,000.
However, once you upgrade to the Mercedes-AMG G63, expect to pay around $175,000. However, that G63 has 577 horsepower and can accelerate to 60 mph in just under 4 seconds.
Brabus G Wagon Price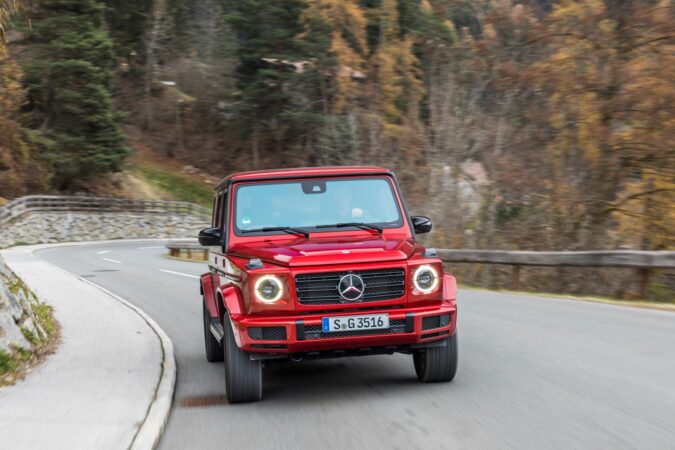 Do you run the mafia? Or, the owner of a Premier League soccer team? You might be an oil oligarch from Russia. If you indicated yes to one of the questions above, the Brabus G800 is the ideal vehicle for you.
It's quite a show, isn't it? It is based on the old Mercedes-AMG G65, the heroically extravagant V12-powered version of the legendary G-Class off-roader, as you would have guessed. But Brabus hasn't just left it there; far from it.
To begin with, it has added to this already massive 44 which it refers to as the WIDESTAR widebody package. This also adds wider wheel arch flares that expand the car's total width by 12cm and assist make way for its gigantic 23-inch alloy wheels, in addition to a much meaner-looking front bumper as well as a hilariously unneeded roof spoiler.
Additionally, you will find a large carbon fiber intake scoop on the hood, and there are recognizable exhausts that help you hear the V12's vicious growl more clearly.
The characteristic hood-mounted indicator lamps from the normal G-Classis are not there anymore and in their place are some Toblerone-shaped carbon fiber pieces, giving the G800 a more sinister appearance.
As a result, the car has a distinctive appearance. Even if it doesn't completely suit your tastes, it's difficult to ignore that it has a serious presence. There were reportedly just 13 produced, and the car cost roughly $450,000 when it was brand new. That level of exclusivity is quite astounding.
Jeep vs G Wagon
By appearance alone, the Mercedes Benz G Class and the Jeep Wrangler are identical, yet both are 44 vehicles suitable for off-road travel.
But the Mercedes Benz G Class appears like a luxury one while the Jeep Wrangler looks like a monster and is intended for off-road driving only.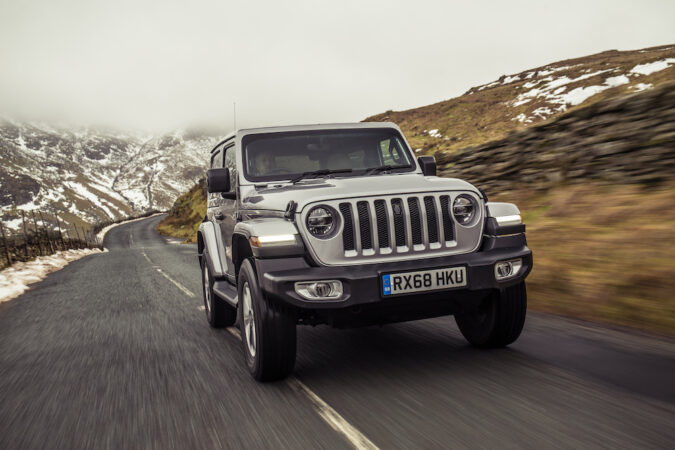 Both vehicles are effective on all-weather roads in practice. This is why some consider the G Wagon as one of those cars similar to the Jeep Wrangler. The Mercedes Benz G Class appears to be used only by wealthy individuals, in contrast to the Jeep Wrangler, which has a history of use by both the military and civilians.
Every automobile in this collection has a distinct flavor and feel, so we'll examine each one individually before letting you decide whether to buy one or both.
Since its introduction in 1986, Jeep has been producing a line of tiny 4-door Wrangler Unlimited/longer wheelbase 4WD off-road SUVs, as well as a mid-size 2-door Wrangler.
The most recent model is now in its fourth generation. Jeep's Toledo Complex displayed and produced the Wrangler JL in 2017.
Jeep Cabin Storage
The interior of the Wrangler is all about comfort, luxury, and spaciousness for both drivers and passengers.
Three-zone automatic climate control, leather-covered back, and front seats, and a 12.3-inch completely digital instrument cluster are all included as standard cabin amenities.
There are 2 cup holders in the first row, a glove box, door panel storage, and the center box.
There are plenty of storage compartments for things like handbags, watches, beverages, bottles, etc. Two cup holders, a door panel, and storage are located on the front seat of the second row.
Jeep Cargo Space
The Jeep Wrangler's cargo area is spacious; a 2-door Wrangler can hold 31.7 cubic feet of cargo when the seats are folded, and 12.9 cubic feet when all the seats are occupied.
On the other hand, the 4-door Jeep Wrangler has more capacity than its rivals thanks to its 72.4 cubic feet of total cargo space with the back seat folded and 31.7 cubic feet of space when all seats are filled.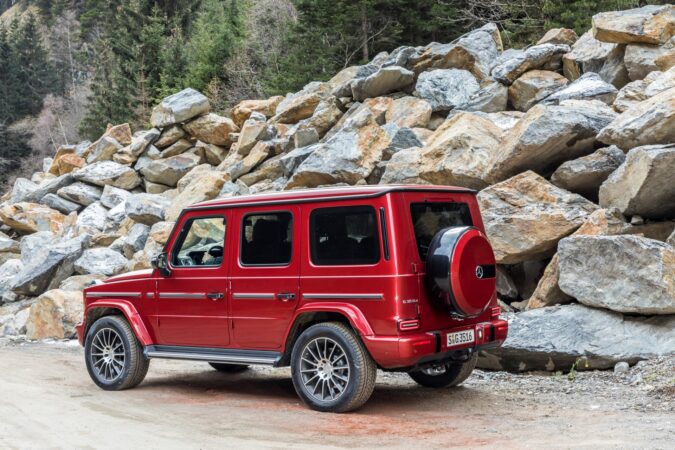 G Wagon
The Mercedes-Benz G-class is a high-end SUV and 44 that is made in Austria by Mercedes Benz. The G-class can be identified from a distance even without its insignia being visible.
The G-Wagon has been in production since 1979, with some upgrades provided over time.
G Wagon Cabin Storage
Another factor that answers the question of why is the G Wagon so expensive is that the G-Wagon features several storage compartments which are fit for storing bottles, handbags, smartphones, as well as beverages.
The door pockets of the first cabin have bottle holders, and the overhead control panel has a spot for your spectacles. Also included is a detachable twin cup holder in the front tray.
There is a luggage net on the left side of the luggage compartment, storage space in the back with a 12V outlet and a USB port, and map pockets behind the front seats in the passenger cabin.
G Wagon Cargo Space
You can anticipate a lot of cargo space in the G Class. Our guide on the Mercedes Classes explained should help with understanding the differences between them. When you fold the seats, it can fit a lot of luggage, like suitcases, and when all the seats are occupied, it can fit something like 16 carry-on suitcases in the back row.
Engine, Performance & Fuel Consumption
Jeep Wrangler
The Wrangler has three different engine choices. a Pentastar 3.6L V6, an EGH 3.8L V6, a VM Motori RA 428 2.8L I4 Diesel, and a 4-speed auto, 5-speed auto, or even a 6-speed manual.
In the 2007–2011 models, a V6 which produced 202 horsepower and 321 Nm of torque served as the base engine.
The Jeep Wrangler MPG is between 19 to 24 MPG.
G Wagon
The M264 I4 2.0L turbocharger, M176 V8 4.0L twin-turbo, M177 V8 4.0L twin-turbo, as well as 2.9L turbo diesel engines all provide power for the G Class.
These engines connect to a 9-speed auto transmission.
The G Class uses between 13 to 19 MPG.
Jeep vs G Wagon: Final Conclusion
The Mercedes G Class has excellent quality and is pricey, however certain models have high prices.
The Mercedes G Class may have been more valuable with various engine options. It has all the features you can expect in an SUV  and avoids many of the flaws that have earned SUVs a negative reputation.
The Wrangler and Mercedes G Class both received good reviews from many reviewers. When it comes to fuel efficiency, the Jeep Wrangler is a better option than the Mercedes-Benz G Class. But the G Class is the better option for space, power, and carrying capacity.
The G-Class has a higher horsepower output than the Jeep. But the Jeep Wrangler fared better in terms of off-road capability. Both vehicles are suitable for cruising around town, but the G Class seems more attractive.
And while you're here, we have a plethora of guides to provide more insight on the Wrangler. That includes looking into the best Jeep Wrangler that you can buy. On top of that, we looked at the best years for the Jeep Wrangler, in addition to the Jeep Wrangler model years to avoid.
Or, if you're wondering whether are Jeep Wranglers reliable, we also have a write-up on the Jeep Wrangler reliability by model year, as well as how long do Jeep Wranglers last. If long-term ownership is your goal, you might also want to be wary of the common Jeep Wrangler problems to look out for.
G Wagon V8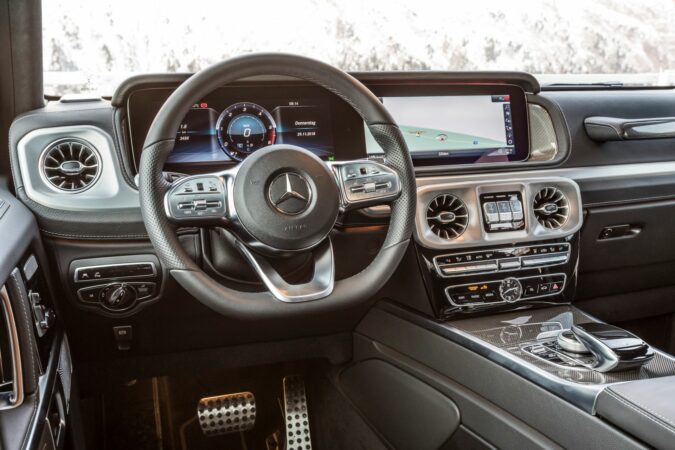 Due to supply chain concerns, Mercedes said last year that a number of its vehicles that are generally available with V8 engines wouldn't be available in 2022.
Many people thought that it would lose eight-cylinder power, from the G-Wagen to the fast C63 AMG coupe, and for the most part, that is still the case.
Not all is lost, though; the German automaker apparently got enough components to assemble several SUVs with V8 engines. That's one key differentiator between BMW vs Mercedes, its staunchest rival.
Other than looking at why is the G Wagon so expensive. The costly Maybach GLS is one among the vehicles that will reportedly resume production, along with the Mercedes Benz GLE and G-Wagen.
For those who are great Mercedes fans, this essentially implies that the G-Wagen, which only uses V8 engines, is back on the menu after first seeming to not exist at all by 2022.
A dealership employee who uploaded what appears to be a genuine Mercedes-Benz document on a Mercedes forum is the source at this time.
Even so, it is still significantly better than doing nothing. Not having your most lucrative vehicles accessible for sale is a huge issue in an SUV-crazed market like the U.S., one that the automaker is undoubtedly working to rectify.
6 By 6 G Wagon
The wild G63 AMG 6×6, which has six wheels and 536 horsepower, is the division of the Mercedes-largest Benz and perhaps the most extreme SUV ever produced. Basically, it's not really an SUV anymore, but a 6 wheel Mercedes truck.
The enormous truck, which initially came out as a six-wheeled military variant of the G320 CDI for the Australian army, has been in operation since 2011. This fall, it will come out in a small quantity at the Magna Steyr facilities in Graz, Austria.
Some of Mercedes-wealthiest Benz's clients are the target market for the elegant, leather-lined civilian model.
Why Is The G Wagon So Expensive, Highlights #1 – The Features
Due to its four-seat interior, six wheels, up to five differential locks, low-range gears, as well as a tire-control system for the 37-inch wheels which come as standard, the German carmaker describes it as having the ultimate word in forward-thrusting force for the trodden track.
The G63 AMG 6×6 boasts a twin-turbocharged 5.5-liter V8 with 536 horsepower as opposed to the military version's 3.0-liter V6 Mercedes-Benz diesel engine.
The car boasts a strong 560 lb-ft of torque, which is more than enough to pull its 8,322-pound curb weight. So, that should help answer what is the weight of a G Wagon.
The outdated NAG1 five-speed automatic transmission that was used on the military version has been replaced with the Mercedes-7G-tronic auto transmission.
With a nominal 30:40:30 split between a 0.87:1 high-range ratio for on-road driving and a 2.16:1 low-range ratio for off-road circumstances, the truck's transfer case can send power to all six wheels. One more drive shaft provides power to the rearmost axle.
Three controls on the dashboard operate five electronic differential locks that enable total wheel locking.
Why Is The G Wagon So Expensive, Highlights #2 – Some Dimensions
The enormous 37-inch bead-plate wheels connect to the ends of each axle. Their wheels measure 12.5 inches in diameter.
This AMG 6×6 comes with an extra 43.5 inches of length, and extra width of 8.9 inches, as well as being much taller compared to the AMG G63 SUV by 10.7 inches, measuring 231.3 inches long, 83.1 inches wide, and 87.0 inches high.
The fording depth is 39.3 inches or roughly 9.8 inches, and 15.7 inches more than its regular brother.
Amazingly, there are 18.1 inches of ground clearance. It's already leading the pack as far as SUV with the highest ground clearance. The breakover angle has increased by 1 degree at 22 degrees, while the approach and departure angles have grown by 16 degrees and 27 degrees, respectively, at 52 degrees and 54 degrees.
The cargo bed of the vehicle has polished bamboo to maintain the opulent look. The maximum cargo capacity is only 1,433 pounds, which is a very small amount. A roll cage made of stainless steel provides structural support.
Why Is The G Wagon So Expensive, Highlights #3 – How Is The Driving Like
A blast, at least in the huge desert, in which the G63 AMG 6×6 has ample space to display its capabilities.
There is little doubt that you would attract attention if you hurried to the mall on a Saturday morning to get the groceries, but we are unsure of how it would proceed. Actually, that is the main focus of this new Mercedes-Benz.
It isn't just a show, though the early prototype was also technically as complete as you'd anticipate from any Mercedes-Benz model.
Naturally, the fact that it was initially for military usage is beneficial. How well-tuned it is mechanically, in terms of how it travels, stops, and handles, is the biggest surprise.
Why Is The G Wagon So Expensive, Highlights #4 – The Interior
The cabin isn't much different from the ordinary G63 AMG. You'll notice this once you've pushed yourself up onto the robust step plate and slid your bottom into the truck's deeply contoured sport seat.
Retro design cues include the upright driving stance, narrow dashboard, and steeply sloped windscreen.
The typical indicators located above the front fenders, however, provide positioning. This allows you to see everything clearly in the forward direction.
The narrow two-piece sliding glass and the steep rear seatbacks, however, make the rear visibility less clear.
Alcantara, a material that often resonates with luxury, is visible extensively throughout the cabin. Two distinct AMG performance seats are available in place of the typical three-across rear bench seat.
A rear center console divides the, which also has an electric backrest adjustment.
The four side pipes that emerge from behind the rear doors as you turn the ignition key on give the huge Mercedes-Benz an eager aspect even before it has turned a wheel.
When you press down on the throttle, it squats like a true muscle car on its springs.
Why Is The G Wagon So Expensive, Highlights #5 – An Easy Drive
Once you get rolling, the G63 AMG 6×6 is incredibly easy to drive.
It may be ideal for the severe conditions of the Australian outback. That said the adaptation for civilian use gives it a basic simplicity. It also offers a level of comfort you'd hardly expect from such an aggressive-appearing machine.
No doubt, it's one of the most comfortable SUV out there.
According to some reviews In the desert's sand dunes, the G63 AMG 6×6 is just as unstoppable as it appears to be.
You can accelerate swiftly from a stop and travel at ordinary cruising speeds on winding, sand roads. You will not feel any significant anxiety because of the complex driveline and those big tires.
The engine's strong torque and the six-wheel-drive system's traction-improving characteristics enable exceptional speed even in deep sand.
Sources claim that the production vehicle will be able to accelerate from zero to sixty miles per hour (mph) in less than six seconds. Mercedes-Benz isn't yet ready to make specific acceleration claims.
The top speed that the car controls electronically can only rise to 100 mph by the balloon-like tires.
The G63 AMG 6×6 motors move with tremendous authority. It produces surprisingly better stability than the regular G63 AMG when given enough room to maneuver. So, if you're ever wondering about what does AMG stand for, this is it.
Why Is The G Wagon So Expensive, Highlights #6 – The Suspension And Steering
Furthermore, you travel through the suspension significantly less vertically, which makes the ride exceptionally smooth even on tough terrain.
There is a lot of lean in corners. But thanks to a unique spring and damper package, it controls body movements beautifully.
The amount of fuel used by Mercedes-Benz is in the range to be 13 mpg on the European test cycle. It's fortunate that the G63 AMG 6×6 features two fuel tanks. It has a combined capacity of 42 gallons of gasoline.
The prototype's murky hydraulically powered steering system, which itself comes with a sluggish 3.4 rotations lock-to-lock, needs modification to properly suit the huge tires.
But even when confronted with perilous sinkholes and sloping dunes, the truck handled everything with admirable tenacity. Additionally, it had a wonderful baritone exhaust note.
When the going got extremely bad, it made outstanding progress thanks to its exceptional wheel articulation and various differential lock configurations that kept all six wheels securely planted on the ground.
It features an integrated compressor and four independent high-pressure air tanks. These are along the sides of the underbody. This allows it takes just 20 seconds to move from a sand-friendly 7.3 psi up to the 26 psi required for on-road operation.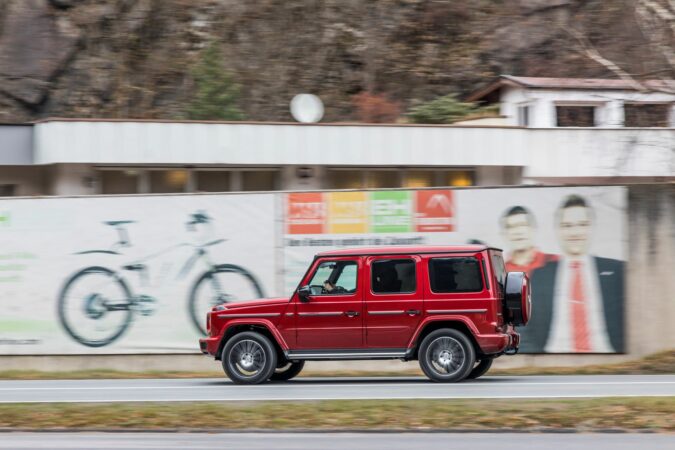 Do I Need to Buy One
There may be an endless discussion about the benefits of the G63 AMG 6×6. But one thing is for sure: It is fun to drive and very capable when the conditions are right.
However, it will only be an exceedingly exclusive alternative for the really wealthy due to its price. This is more than three times higher than the G63 AMGs.
G Wagon Reliability
Finding reliability ratings for the G-Wagon is challenging. Neither J.D. Power nor any other illustrious businesses have given the car a rating. However, there are some credible answers to the query, "Are G-Wagons Reliable?" Could it count as one of the most reliable SUV out there, today?
The Mercedes G-Wagon receives a 3.5/5 rating from autoexpress.co.uk for safety and dependability. Not many individuals can enjoy the downs and ups of this car because of its high price. But it's safe to conclude that they are reliable and sturdy cars to buy.
It's handily considered one of the most reliable Mercedes models, and one of the most reliable German car nameplates out there. Our guide on BMW vs Mercedes reliability sheds more light on this.
They require fewer repairs, are more durable on tough terrain, and are safer than other premium vehicles.
These are only a few factors to take into account if you're wondering whether G-Wagons are trustworthy.
There are many premium vehicles available, as well as several SUVs suitable for large families. The two taken together that can handle any terrain are more uncommon.
The G-Wagon is indeed a unique automobile that, although pricey, offers a wide range of advantages to people who decide to invest in one for their lives.
FAQs On Why Is The G Wagon So Expensive
If you're curious to learn more on why is the G Wagon so expensive, our FAQs here might help…
Why Are G Wagons So Expensive
You may be wondering why is the G Wagon so expensive. In a nutshell, it's because they're strong, rare, capable, and most importantly, cool. Your typical Jeep Wrangler or Land Rover Defender can tow more weight and have more interior space, power, and off-road capability as an SUV.
Are G Wagons Reliable
But it's safe to say that they are a reliable and sturdy car to buy. Because they are designed to withstand harsh terrain, G-Wagons are dependable.
Are G Wagons Bulletproof
No, the Mercedes G-Wagon doesn't really come pre-installed with bulletproof protection, but you can. Despite being given extra protection, the G-Wagon nonetheless has the unmistakably classic appearance of the G-Class vehicle.