Are you looking for a camper under 1000 lbs and you try to find which are the best options in this segment? Well, if that is the case, then you are at the right place because there will be a lot to cover on this topic and we are going to share everything you need to know when it comes to these trailers.
Doing the proper research before you decide on spending a ton of money on something like a camping trailer should be one of your top priorities. Why I'm saying this? Well, because it is true. These trailers are really small and you need to get the most out of them. And what is worth noting is that there are a ton of compromises that you need to make. So, not every trailer will be a good purchase for you.
Not to mention the price. Prices are going pretty high nowadays and could cost you an arm and a leg to get the right camper. This is why research is the thing that should be your top priority as we mentioned. You just don't want to make bad investments and spend money on something that doesn't perform right. That's why we are going to help you out.
First, we are going to learn why camping is getting more and more popular. Then, we are going to take a look at what is a lightweight camper and the things to consider before getting one. We will also learn the pros and cons of having a camper under 1000 lbs and after that, we are going to list our top picks. So, you don't want to miss that.
Why Camping Is Getting So Popular
Now before we jump into complex topics like the pros and cons of a camper under 1000 lbs. Let's first take a look at why camping is getting more and more traction lately and why this type of traveling is so popular? What makes camping the perfect type of travel? Let's elaborate.
Having a camper or an RV is one of the best ways to travel if you are asking me. You basically take your house with you wherever you want. This means that you don't have to rely on expensive hotels. You just take everything with yourself and enjoy your trip a lot more.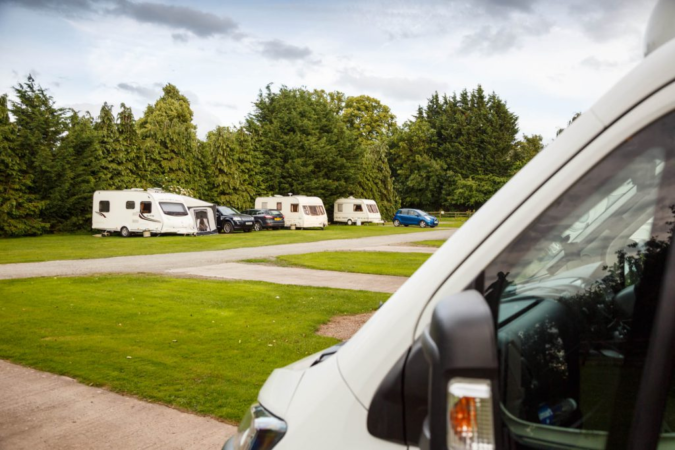 Traveling with a camper is for adventurous people. For the people who want to experience how it is to travel on your own across the country and visit a lot of breathtaking places. Especially in the summer when temperatures allow this type of travel.
Personally, since I started learning about campers I started following a ton of YouTube travel channels and got in love with this way of living (though, it takes getting used to when you're learning how to live in your car). Nowadays most of us work on the computer and it is really easy to travel wherever we like and also work along the way.
And this is why this travel fever is catching with a lot of the younger audience and they want to get a good camper under 1000 lbs. Since not everybody can afford to get a big camper or an RV. But have you asked yourself what is a lightweight camper? What is the core concept for a lightweight camper? Well, more on that we are going to cover in the following chapter, where we will introduce ourselves to these campers.
What Is A Lightweight Camper
As we learned why traveling with a camper is getting so much traction, we think that now it is time to cover more about what is a lightweight camper. Before we start learning about the best camper under 1000 lbs. What campers are considered to be lightweight?
Well, this category of lightweight campers are falling into two categories of campers. These are the pop-up campers and the tiny travel trailers. Now let's discuss more about these two types.
The pop-up campers as their name implies are pop-ups. They are formed as small flat trailers that you tow with your car and when you come to your destination, you put them together and basically build a whole house on top of that trailer.
This is why these pop-up campers are really convenient to use because they can accommodate a lot of people and can be stored in a small place when you don't use them.
But the downside of these trailers is that with these trailers you are not covered by the elements. Only a small layer of fabric protects you from the strong wind or possibly hale. So, under unpredictable weather conditions, these trailers can be rather dangerous to be in.
The second type is the tiny travel trailers. These travel trailers have a hard shell and are known as clamshell or teardrop designs. They are relatively small and accommodating more than two people inside can be a challenge. Even though some of them can even accommodate up to four people.
What is good with these trailers in comparison to the pop-up trailers is that you are protected from the elements. And this is crucial when it comes to camping in a relatively unsafe location.
And if you are looking for an even lighter solution, you can look at roof tents as a great lightweight option.
Things To Consider Before Getting Camper Under 1000 lbs
Getting a proper camper under 1000 lbs can be a challenge because these campers are rather tiny and can be a real problem to find. On top of that, you need to find one that suits you best. So, there are a number of things that you need to consider before you buy one.
The first thing is the type. You need to see if you need a clamshell type of camper or a pop-up camper.
For example, if you rarely travel and you travel to a place that is rather safe when it comes to weather and also from burglars. Then getting a pop-up camper might be a better idea since you are able to accommodate a ton more people than in a standard hard shell camper. Especially when we are talking about campers under 1000lbs.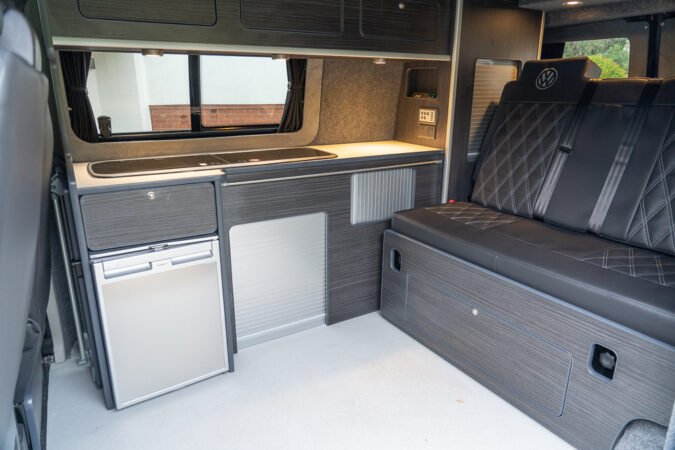 The next thing that you need to be aware of is practicality. Not every camper is going to suit your needs. Even though the camper is about the same size as the other. Some campers are better built and offer more features and have a much better layout than others.
This is why we would strongly recommend you to rent a few of these campers and see which one of them will suit you best. You just don't want to get a camper that will not fit your needs.
And the last thing you need to focus on is the condition of the camper. This is often the case when you purchase a used camper. Some campers come in a rather terrible condition and it could cost you thousands of dollars to bring them back in shape. But what is the best camper under 1000 lbs? More on that in a bit.
Pros And Cons Of Having Camper Under 1000 lbs
Now before we dive into our list of the best camper under 1000 lbs. Let's first discuss another interesting topic.
And this topic is about the pros and cons of having such a lightweight camper. As you are probably aware. Everything has pros and cons. So, this is the case with having a camper of this size. This is why if you want to learn more of what you can expect from owning one for yourself, follow along.
Pros
Now let's first cover the pros of having a camper under 1000 lbs. What are the benefits of having this type of camper?
Well, the first benefit is probably the cost. These campers tend to be a lot cheaper in comparison to bigger campers or RVs. And by cheaper, I mean really cheap when compared to something bigger.
Not everyone has the budget to purchase a big camper and if you are into cost savings and you want to travel on a budget, this camper will be the right choice for you. You can spend the money that you saved on some activities once you reach your camping spot.
The second pro of having a camper under 1000 lbs is that this camper can be towed by absolutely anything. It doesn't matter what type of car you are driving, you will be able to tow this trailer with no big issues whatsoever. Even some motorcycles can tow up to 1,000 lbs.
The next pro is that this is a camper ideal for people who travel alone or with a partner. So, if you plan to travel alone, this is a no-brainer decision to make. Either way, you are probably only going to use it for sleeping.
And the last pro that we are going to cover is concerned with storage. When you don't camp, you will probably have to store this camper somewhere. And something big like a full-size camper or an RV can be a challenge to store.
Only for a month, you can pay up to $500 to store one of these campers. This is why having a smaller camper is a good thing since you will be able to store it in your driveway or in the backyard if you have one.
Cons
Now let's cover some of the cons of having a camper under 1000 lbs. Still, you need to see both sides of the coin. And if you don't like the cons, getting a camper might not be your cup of tea.
The biggest con of having a camper like this from this size is probably the space. If it's a pop-up camper, then you will have enough space. But if you opt for a clamshell design or a teardrop, you might face a ton of compromises when it comes to this type of camper.
These campers are the smallest that you can get and in each of them, you probably won't be able to sit straight since they sit very low in order to meet this 1000 lbs limit.
So, this means that you also won't be able to cook or do anything else inside. Except for sleeping or watching movies on your laptop.
In addition to this, these campers can be a struggle. Especially in the summer when temperatures are getting crazy hot.
Most of them do not come with AC and you will fry like in an oven inside. So, planning some money for an AC might be a good idea if you plan to be inside the camper during the day.
These things can be a deal breaker for a lot of people and we really don't want to ruin your dream about having a camper. On the contrary, we encourage you. But you still need to be aware of these things in order not to make any expensive mistakes. Now let's dive into the best camper under 1000 lbs and see which are the candidates.
Camper Under 1000 Lbs Out Top Picks
Now since we cleared all the topics that we wanted to clear. We can now move on to our recommendations when it comes to a camper under 1000 lbs.
Here, we're going to list the campers that have caught our eye and are the best options for that price range. We will cover all types, including pop-up campers, clamshells, and also teardrops. So, you don't want to miss that.
Camper Under 1000 Lbs #1: Coachmen Clipper 9.0
Now let's start with something really good when it comes to a camper under 1000 lbs. And that is the Coachmen Clipper 9.0.
This camper has a weight of under 1000 lbs. It is 761 lbs heavy, to be more precise. But what is really good about this camper is that this is a hybrid between a clamshell and a pop-up camper.
That's right. With this camper, you get the best of both worlds and experience a lot more in comparison to other campers.
The roof of this camper can be extended with a mesh tent and you basically have more room for activities and not feel claustrophobic inside.
This camper, except for that is really light, it has a lot of interior features. You have a small fridge, an AC, and a sink. Plus you have a 54-inch x 74-inch bed.
The exterior also offers a ton of options and allows you to mount a grill in order to make meals while camping. Overall, this is a really nice camper that you need the least compromise on. It's light and gets things done. The cost for this experience is also affordable.
This camper under 1000 lbs comes in a few trim levels, starting from $5,600 and up to $11,999 for the best-equipped ones. For the most accurate prices, you need to contact Coachmen and see what they have to offer.
Camper Under 1000 Lbs #2: Livin' Lite Quicksilver 8.0
Now let's cover a camper under 1000 lbs that fall in the pop-up category. As we learned, pop-up campers are the ones that you are building by yourself. In simple terms, they are tents on wheels. They are not for everybody but still, some of you might want precisely a camper like this one.
Nevertheless, this is a lightweight camper that weighs about 994lbs. When completely assembled, this camper is 16ft in length, 7ft wide, and 8.17ft tall. Quite roomy as you can see. This camper is perfect if you plan to camp with a few people. It can easily accommodate up to 6 people.
Inside, there are two sleeping beds that can be converted into dining tables in only a few minutes. What is also good with this camper is that it has AC. So, you will never have to worry about the hot summer days while camping. But what is the price for this camper under 1000 lbs?
Well, the average price for this camper new is $12,500. It is a reasonable price considering that you get a camper for 6 people and air conditioning. In the video, you can check for more details on this specific camper.
Camper Under 1000 Lbs #3: The ProLite Suite from Roulottes-ProLite
Now let's cover another really light camper under 1000 lbs. And this camper is even lighter than you think. The weight is only 590lbs. You just can't beat that.
And on top of that, I think it looks phenomenal from the outside. This ProLite Suite is built by a Canadian Company called Roulottes-ProLite.
The camper is really roomy inside and incorporates a folding sofa that can be turned into a sleeping bed for two people. Besides the bed, there are also a ton of mounts inside and outside that can be converted into dining tables.
Sadly though, besides a table and a bed, this design doesn't offer a lot. What is most important is that it doesn't have an AC, nor a fridge. So, you will need to figure this thing out by yourself.
The good thing is that it is spacious with 4.8ft height space. But overall, it is up to you to determine if this camper is the right for you. Prices for this model start at about $16,000. Now let's move on to the next camper under 1000 lbs.
Camper Under 1000 Lbs #4: Pika – Timberleaf Trailers
Now let's cover another really good and lightweight trailer. This trailer is the Pika model made by Timberleaf trailers.
This is a little trailer that weighs almost 1,000 lbs. More precisely, it has a curb weight of 970lbs.
What is important about this trailer is that it comes with a really popular teardrop shape. And because of this shape, it can be towed by almost any passenger vehicle out there.
The frame of the Pika is really rugged and also the wheels are much bigger in comparison to the previous campers that we covered. These tires are 33 inches in diameter. This makes the Pika a bit taller in comparison to other trailers. Which is really good.
On this trailer, there isn't a front or rear side. Both sides have one door and one window. Immediately after you enter the trailer, you have the bed and in front of the bed, there are some wood cabinets that are nicely crafted. And there are also 12V connectors to connect your appliances.
In the rear, there is a small kitchen to which you can connect a small propane tank. You just pop up the rear cover and there is a small table with drawers where you can store all the food and kitchen appliances.
Overall, the Pika is the perfect camper under 1000 lbs. The price for the base version is $11,750. While the fully loaded model is about $18.200. In the video, you can see all the options that are available on this model. The Pika gets our recommendation!
Facts: 10 Benefits of Lightweight Camper Trailers Under 1,000 lbs
Lightweight camper trailers weigh less than 1,000 lbs and can be towed by almost any car with a tow package and brake controller installed.
Lightweight campers offer a more comfortable camping experience than a tent or car camping, with sleeping quarters and electrical systems.
Small trailers have independent suspensions on their axles and are easy to handle on the road, but crosswinds should be watched for.
1,000-lb campers are easy for one person to hook up, unhook, or move into place, and maintenance is simple to keep up with.
The SylvanSport Go is an affordable, adaptable option that can sleep up to four people and has room for additional storage.
The Livin' Lite Quicksilver 8.0 and 6.0 models have fold-out bed platforms and provide up to eight feet of interior clearance.
The Polydrop Camper is built for all-season camping and features an innovative movable table that can be used inside or outside.
The Go Little Guy MyPod is solar-ready and features a full-sized bed, sound system, and air conditioning.
The Meerkat Camper is loaded with features such as a sink, icebox, and dinette that folds down into a bed.
When choosing a lightweight camper, consider its dry weight and Gross Vehicle Weight Rating (GVWR), which is the maximum weight when loaded with gear.
Conclusion To Camper Under 1000 Lbs
In this article, we learned quite a bit when it comes to the campers under 1000 lbs. First, we learned why camping is getting more and more traction nowadays.
Then we covered the things to consider before getting yourself a camper and the pros and cons of running a camper smaller than 1000 lbs. Lastly, we gave you our recommendations when it comes to campers under 1000 lbs. The Pika is one camper that you should definitely check out.
F.A.Qs To Camper Under 1000 Lbs
Now let's answer some frequently asked questions.
How Much Does A Pop Up Camper Weigh
Pop Up campers are usually one of the lightest types of campers out there. They can weigh less than 1,000 lbs. Which makes them perfect for towing with a passenger car.
Are Pop Up Campers Worth It
Well, if you plan to travel to some place which is safe from burglars and also you are sure that the weather will be excellent. Then yes, you can have a good time. But if the wind starts blowing and the rain falls like a river, then you might have a hard time.
How Much Does A Camper Weigh
Campers come in all shapes and sizes. The lightest campers weigh only about 700 lbs. The heaviest weighs a few thousand lbs. It really depends on what size you are looking for.
Can A Car Pull A Camper
Yes, if it's a small camper under 1,000 lbs. For heavier campers, I wouldn't trust a car that at least doesn't have a V8 engine or a diesel engine under the hood. Also, check the tow ratings for your specific vehicle to get the best input.
How Much Are Camping Trailers
Camping trailers can range from $6,000 to $30,000. Or even more in some instances. But the sweet spot when it comes to trailers that you can tow with a car is between $12,000 and $18,000.
Can A Minivan Pull A Camper
Yes, it can to a camper. But for good input, check the towing numbers for your specific minivan. Some minivans cannot tow a lot of weight.