Are you interested in getting your hands around a small practical van? You are probably tired because of the sheer size and the lack of driving capabilities from new vans and you want to get something more exquisite. Namely, the Mitsubishi Delica? If that is the case, you are at the right place because we are going to cover a lot when it comes to the Delica.
Modern vans are bloated in size and they look more like trucks than vans. But this hasn't been always the case. Vans in the past were built to be small and extremely practical. In Europe and Japan, they don't have the wide streets that we have in the US. So, people had to design something that would fit the bill and deliver quite a performance for the money.
That was the case with the Mitsubishi Delica. The Delicia is probably one of the most popular enthusiast vans out there besides the VW T1 also known as the Hippie Van. But the Delica is probably better known for its driving characteristics than the T1. That's why many car enthusiasts want to get themselves a good Mitsubishi Delica for themselves and these vans are tricky to find, to be honest. But before getting one, you need to learn more about them.
In this article, we are going to cover precisely that. We will learn what is the Mitsubishi Delica and why is it so popular. Then we will cover the generations of the Delica and we will see how you can import one in the States. So, follow along.
What Is The Mitsubishi Delica?
The Delica is a line of vans and small pickup trucks made by the Japanese manufacturer, Mitsubishi. So, why it is called Delica? The story behind it is quite interesting.
This is the case because the name Delica is somewhat of a contraction of the English phrase for "delivery" and "car". So, they matched Deli and Ca and they got Delica. Nobody will ever think of this but that is the right etymology of this word and the name of this van.
Nevertheless, the Delica was designed to be a reliable workhorse for the general public. These vans were created to never stop carrying things and in this role they were actually quite good, to be honest. That's why they carry the popularity worldwide.
This model was originally brought to the market in 1968 and is still in production to this day. Which is bonkers, as would the English people say. More precisely, five generations of the Mitsubishi Delicia have seen the light of day and we are going to cover them later in depth when we will learn more about their specs and also their overall performance.
What is characteristic of the Delica is that is extremely small. But the looks will probably fool you because under the hood this van rips. All this was aided by the 4×4 system of this van. I'm going to tell you a secret and that is that this van is a more capable off-roader than some of the so-called "off-roaders or SUVs". That's why many people have a lot of respect for this model and cherish it so much.
Now, let's see why the Mitsubishi Delica got so much traction lately and why many people want to get one for themselves.
Why It Is So Popular?
Although many people want to get good modern off-roaders, there is still a fraction of the market that would go for a quality used one. More specifically the Mitsubishi Delica.
But how come a van be such an excellent off-roader? This is the case because the Delicia although is a van on the outside (and bearing in mind variables like the Ford Econoline common problems), under the skin is an extremely capable off-road vehicle.
The Delica has inherited the Mitsubishi Pajero drive train. And when it comes to off-road vehicles we know how capable is the Pajero. But not only that, the lighter chassis makes the Delica extra capable while climbing over hills. This is the case because on the inside there is nothing. It is just a shell with a driver and passenger.
This model has been so popular among the off-road community that it even participated in Baja racing. For those who don't know, Baja racing is the epitome of off-roading. The Baja races are events in Baja California which are located in Mexico.
The Baja races are practical people jumping over sand dunes and racing in the sand. And the Mitsubishi Delica has proven there by quite a lot. From there, the popularity has moved onto the car community where car guys learned about this van and they are trying to get one for themselves at any cost. One of the greatest people in the car world Matt Farah got one for himself. If you don't know who he is you can check his YouTube channel, The Smoking Tire.
Nevertheless, many people are trying to get one of these and that makes the cost of buying one more on the higher side. Since importing these into the US is extremely difficult. But more about that later.
Mitsubishi Delica Generations
Now let's discuss the generations of the Mitsubishi Delica. Since there are a few generations. Knowing the specs of each generation will help you out learn which are the most desired Delicas out there on the market. This article would also be a great starting point for doing your own research when it comes to importing this model into the US.
 

View this post on Instagram

 
These vans go under the rule of the 25-year federal import rule. So, you can import them into the US. But be aware that you will not be able to import them just about anywhere since they are not approved by all of the states. And more about that after we cover the specs of the Delica.
T100/T120
The first Delica was introduced in 1968. This van was codenamed the T100. The first Delica was a small van and this design is carried until this day. The T100 was assembled in Nagoya, Japan where the production of these vans took place. It was also assembled in Indonesia and the Philippines.
The T100 implemented two designs. One was a 3 door van and the other was a two-door pickup truck design. In both of them, the engine was mounted in the middle and the power was delivered at the rear wheels. So, unlike more modern Delicas, this model was only rear-wheel drive.
The first of the models as we said was the T100. This model had a wheelbase of 83 inches and it carried a KE44 inline 4 engine that had 1.1l in displacement and produced 58hp. This engine allowed the Delica to carry 1,323 lbs of cargo. The Delica also achieved a top speed of 71 mph.
In 1971 the T120 was introduced which was an improved version with a bigger engine. This version was equipped with a 1.4l engine that was producing 86hp and was able to carry considerably more in comparison with the previous engine.
This generation of the Delica enjoyed huge popularity and a long production run of 11 years before it was discontinued. Some of these vans are still in use by this day and this tells a lot about the durability and quality of this van. But this was only the beginning for the Delica. We are not over yet, because there are 4 generations more. And we are going to cover them next.
L300
In 1979, Mitsubishi has introduced the new and improved version of the Delica, codenamed the L300. So, if you are looking for this van online it is highly more likely that you will come across the name L300 instead of the Mitsubishi Delica badge.
This is the case because this van was sold in many different markets and was carrying a lot of different names. It was known as the Mitsubishi Colt, Ford Husky, Hyundai Porter, Mahindra Voyager, and Isuzu Bison.
It was assembled in many different countries worldwide. Namely, Japan, Indonesia, South Korea, China, and is still in production by this day in the Philippines. And considering the age of this model is astonishing, to be honest.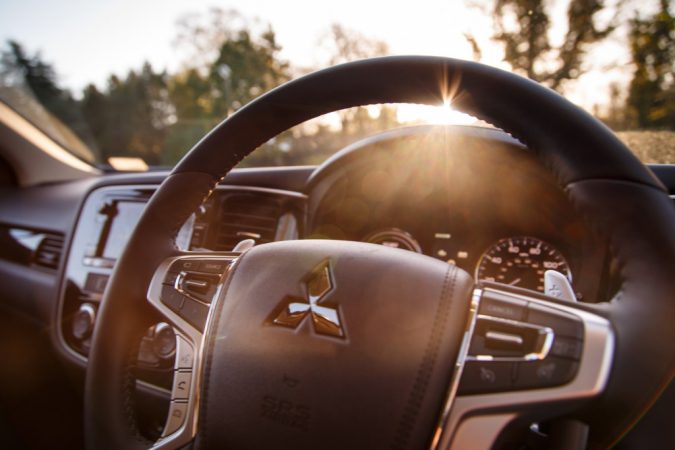 Nevertheless, this model was a huge improvement compared to the early Delica and offered quite a lot of performance for what you pay. It was offered in RWD and also in four-wheel-drive configurations. And now we come to the important bit.
This generation of the Delica was also a capable off-roader as well. This van started to use a modified Mitsubishi Pajero chassis. This means that this chassis was using all the good off-road stuff that the Pajero had.
This included higher ground clearance and bigger and grippier tires that this option had. This 4WD version came in 1983 and was equipped with the 1.8-liter engine, then this version was improved with a 2.0-liter engine.
The 4WD also had stickers on the outside that indicated that this is a 4WD version. And from this generation, it all started. Because this generation has proven itself to be quite durable and a proper workhorse. So, the next generation even tried to go a step ahead and make the Delica even better.
L400
The new generation Delica was introduced in 1986 and unlike the previous model, this generation has brought many improvements in safety. This new version implemented something new and that was a monocoque body style and accompanied with the safety features, the Delica has evolved into a proper off-roader. With this Delica, you could off-road without worrying that you will get killed while doing so.
Similar to the previous version, this version as well was produced globally across many different countries and is still in production by this day in China. Which tells a lot about this new generation. But what is important is that this generation was imported into the US. There was a special US market Delica from this generation. Although in very small numbers in comparison to other vans. But you could still import it. And that we are going to cover a bit later in the article.
This generation was offered in a wide range of engine offerings, starting from the smallest 1.4l petrol to the more powerful 2.4l petrol engine. There were also diesel options, more precisely the 2.5 turbo diesel and 2.6 naturally aspirated diesel engine.
 

View this post on Instagram

 
This generation of the Delica has also implemented the Pajero undercarriage. And this generation of the Delica was a proper off-roader. Since parts from the Pajero 4WD and the Delica were interchangeable. This attracted the attention of car enthusiasts and the people who enjoyed off-roading their vans. This 4WD version was equipped with a 2.0-liter gasoline engine.
What was different with this generation was that you could order the Delica in two different wheelbases 88 inches and 95.9 inches. So, it wasn't a big problem if you needed a longer 4WD van.
North American Model
In the US the L400 was sold from 1987 up until 1990. But these numbers were very insignificant because there wasn't a big market for these vans back then. The van was sold in both versions as a wagon for passengers and as a van, which was without windows.
The US model was equipped with a 2.4-liter gas engine that produced 107hp. Which wasn't enough but it was pretty much a good deal if you wanted to get a good and reliable van for yourself.
But there wasn't a 4WD model in the US. But since the Delica is older than 25 years it could be imported under the US Grey Import law. More about this later, after we cover all of the generations of the Mitsubishi Delica.
L400 Upgraded
In 1994, the new Delica was introduced. This model was a big advancement in comparison to the previous generations. This new generation of the Delica was upgraded and exceeded the previous model in terms of safety and performance.
This new model implemented an aerodynamic design that improved the fuel economy very significantly. Similar to its predecessor, the new Mitsubishi Delica shared a lot of components with the Mitsubishi Pajero. Namely, the 4WD system.
This model has taken the 4WD system to levels that were not seen before. This model even went on Baja racing to prove its rigidity and durability when it came to off-roading. For those who don't know what are Baja races. Baja racing are events that are held in Baja California in Mexico, where off-roading vehicles are raced and jumped over big dunes.
This proved that the Mitsubishi Delica was an excellent product and has proven itself to be one of the best out there when it came to off-roading. This generation of the Delica offers 4WD with high and low gear ratios along with a differential locking mechanism. Which makes it extra good if you intend to use it for off-roading.
Nevertheless, this model was not imported into the US market. Namely, because there was no interest, so Mitsubishi didn't put the effort to homologate this model for this market, unfortunately.
But, some of these Delicas are more than 25 years old, which means that they are importable as well. What was interesting with this model is that it implemented new engines and new transmissions. It added a new 3.0 V6 engine and a 5-speed manual transmission.
This model was produced until the next generation was introduced in 2007.
Delica D:5
The Delica D:5 was introduced in 2007. It replaced the previous model that was highly regarded when it comes to its off-roading capabilities.
This new Delica brought many new technologies that were not present in other Delica models. Like the new Mitsubishi AWC 4WD system and the new modern CVT transmissions which made gear shifts to be extra quiet and not noticeable at all. Improving the comfort of the passengers significantly.
This new generation also offered a 2.4-liter engine that was more modern than the one used in the previous generations. Safety was another thing that was quite improved. To be honest, old Mitsubishi Delica models are not particularly safe. But this new model tried to sort these problems. And it did so.
The new model focused primarily on carrying passengers, unlike the predecessors. That's why the safety was number one priority when it came to the design of this van. This made the D:5 considerably heavier. Weighing more than 3,902 lbs for the AWD.
This model was also not imported into the States. So, you will not see any one of these vans rolling around. But it is still quite popular in Japan as an MPV because it offers quite a lot more space in comparison to other MPVs like the Honda Odyssey for example.
In 2019 there was a refreshed model was introduced which brought even more technology. By implementing sleek modern looks accompanied with a huge 10-inch infotainment screen.
So, we covered all the generations of the Mitsubishi Delica, but which model is the best and most desired in the States? Let's find out in the next chapter.
Which Generation Is The Best?
In terms of desirability, the second L300 and the L400 are probably the way to go. The community around these two generations is very big and there are a ton of guys who enjoy these vans.
 

View this post on Instagram

 
People across the country have clubs where they can gather and enjoy a good time with their Delica. But when importing a Delica, you probably would want to go for the 4WD model. And this model isn't cheap, to be honest. They can cost some good dollars in order to get them into the States.
But if you are a Delica diehard, then you should be prepared for this high cost of importing one for yourself here. But how you can import a Mitsubishi Delica into the US? Well, that's what we are going to cover in the next chapter where we will learn which Delica models are eligible for import.
How To Import A Mitsubishi Delica In The States?
Since the L300 and some of the L400 Delica models are more than 25 years old, they can be legally brought into the United States.
This means that you can get one from Japan and then move it here with a ship. Normally, you will have to pay for the vehicle and prove that you legally own it and also pay for the taxes in order to import it.
There is a ton of paperwork to get this work done and it's best when it comes to this to contact people who already imported one to tell you what you are going to need to import and register one here.
Just be aware because some states started to de-registering these Delica models and that we are going to cover that next.
Maine Controversy
There were cases in Maine, where people imported the Delica. But the local DMV started to de-register these cars because they were considered to be 4×4 vehicles and not vans. So, if you want to avoid this and not disappoint yourself. The best thing would be to get a Delica and register it in a state where the law allows these vans to be properly registered.
That's why you first need to inform yourself about the options you have to make yourself eligible to register this vehicle and drive it legally on the roads in the US.
Mitsubishi Delica Facts:
The Mitsubishi Delica is a boxy, four-wheel-drive diesel van that was only briefly sold in America as a grey market vehicle.
The 1990s models seat up to eight passengers and have swiveling seats.
The Delica has an impressive reputation for toughness and durability, as well as being a legitimate off-roader with a 4×4 transfer case, five inches of ground clearance, and a low center of gravity.
The Mitsubishi Delica is pronounced DEH-luh-kah.
The Delica can be updated with a suspension lift, bigger tires, locking differentials, and other features to make it even more capable.
Delicas have retailed in America for between $10,000 and $20,000, with a slight trend upward in the past year or so.
30-year-old vehicles like the Delica can be expensive to maintain, and parts may be hard to source.
In Maine, the Bureau of Motor Vehicles has classified the Delica as a minitruck and unsuitable for driving on highways, which means it can be owned but not driven.
The 1990s Delica has become more popular in America as the RAD era third and fourth generations have become legal to import after 25 years.
The Delica has a super-flexible #vanlife cabin with swiveling seats and looks kind of like a quirky Japanese Kei car – albeit much bigger.
Conclusion – Mitsubishi Delica
In this article, we learned a lot when it comes to the Mitsubishi Delica. We first learned what is the Delica and why is it so popular among the car community. And as we said, this is because of its exceptional 4×4 driving ability. This is mostly because this van is using the same chassis as the Mitsubishi Pajero which is an exceptional off-roader.
Then we have covered all of the generations of the Mitsubishi Delica. We started from the first generation and then we moved through each of them mentioning all the important information you need to know to understand these vans better.
Lastly, we have covered which of them you can import in the US and how you can perform this practice. It is good to know that not all of them are eligible in all of the 51 states. So, before you try to import one, you need to do your own research and learn which of them are eligible for this practice.