With millions of cars sold worldwide, Toyota has changed the perception of affordable, economical, and reliable vehicles with their Corolla. Undoubtedly, the name 'Corolla' is the first thing that comes to mind when looking for an affordable (and economical) car. Even though the Corolla may be built like a tank, there are some Toyota Corolla years to avoid. This article will cover the best Toyota Corolla year (or years) worth your money and time.
Thanks to their reliability (and excellence), Corolla's generations have set the benchmark for the affordable small-car segment. More importantly, the Corolla holds the honor of being the best-selling car in the world – throughout its generations. With over a million Corollas sold in the last year, it was no surprise that – once again – the Corolla became the best-selling car in 2021.
Toyota Corolla Generation
The Corolla has gone through 12 generations (and counting), with each generation better than its predecessor. More than 50+ years have passed since the first-generation Corolla hit the market. And even after 5 decades, Toyota doesn't seem interested in pulling the plug for its most successful car.
With that said, let's journey through the 12 Toyota Corolla generations and find out how Corolla reached record-level sales figures.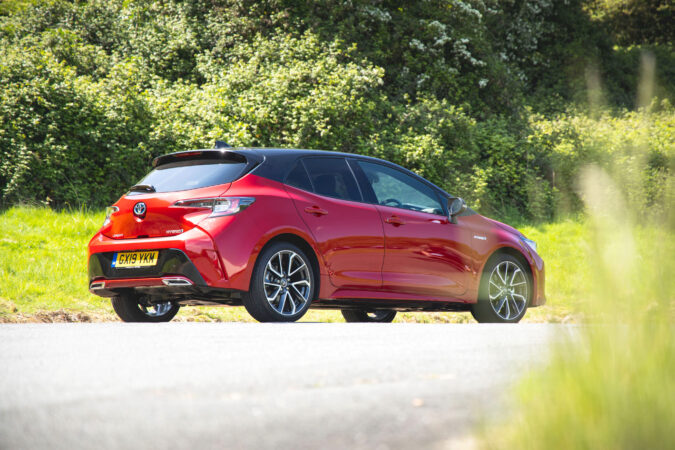 Toyota Corolla Generation – 1st Generation (1966 – 1970)
In the late 1950s, Toyota realized the need for a car that fit the budget of middle-class income earners. During that era, car manufacturers were focusing on engineering and manufacturing expensive vehicles with bigger engines. So, for the masses, owning a car was just a dream that people with only loads of money could fulfill.
However, car manufacturers such as Toyota, Subaru, and Datsun, changed the equation by launching affordable cars for the masses.
The first-gen Corolla featured a 1,100cc engine coupled with either a 4-speed manual or a 2-speed automatic gearbox. Eventually, in 1968, the Corolla made its way into the U.S. markets – sold for almost $1,700. The North American market received a 1.1L and a 1.2L engine.
U.S. car buyers were super impressed with the E10 Corolla's price, (compact) size, and fuel economy. So, it was just a matter of time before the Corolla gained popularity among U.S. car buyers who were previously used to gas-guzzling V8s from Chevrolet, Ford, and Dodge.
Toyota Corolla Generation – 2nd Generation (1970 – 1974)
in the mid-1970s, Toyota launched the second-gen Corolla. Over the first-gen, the second-gen Corolla showed slight cosmetic changes and an improved front suspension setup. Moreover, Toyota offered the Corolla in several engines and body styles, including coupes, four-door sedans, 3-door wagons, 5-door wagons, and vans.
The Japanese market received numerous engine choices ranging from multiple 1.2L 4-cyl engines to 1.6L 4-cyl engines. Unluckily, the North American market got only two engine choices – a 1.2L i4 and a 1.6L i4. Also, the Corolla was available with either a 4/5-speed manual or a 3-speed automatic.
Despite offering smaller (and limited) engine choices to U.S. buyers, the Corolla became the best-selling car in the world.
Thanks to its compact-sized and economical engine, the second-gen Corolla achieved impressive fuel economy figures. The U.S. was undergoing a gas crisis in the 1970s, which had reduced the demand for gas-guzzling V8s made by American car manufacturers. Therefore, because of its smaller engines, the Corolla quickly gained the attention of U.S. car buyers.
Toyota Corolla Generation – 3rd Generation (1974 – 1979)
With minimal styling upgrades and some more sharp body edges, the third-gen Corolla began rolling out of Toyota factories. This time around, Toyota sold the Corolla under various engines, chassis designs, and trim levels. For instance, the Japanese/Asian market saw 15 different engines (settings) alongside a range of automatic and manual transmissions.
Unfortunately, the U.S. market received only three engine configurations, including a 3K-C (1.2L i4), a 4K-C (1.3L i4), and a 2T-C (1.6L i4) engine. Also, in the U.S., the third-gen (E30) Corolla chassis consisted of sedans, wagons, liftbacks, sports coupes, and hardtop coupes. So, Toyota made efforts to appease all types of customers.
Toyota sold the base/entry E30 Corolla for around $2,700, whilst high-spec Corollas cost even more. However, the Corolla was called out for being more expensive than its rivals like the Honda Civic, which cost $2,200. Moreover, the E30 Corolla lacked in several areas, including fuel economy, (rear) suspension setup, and practicality (in terms of interior space).
Toyota Corolla Generation – 4th Generation (1979 – 1983)
The fourth-gen E70 Corolla saw great changes in terms of design, performance, and practicality. Fuel efficiency and value-for-money were one of the key priorities for the E70 Corolla. Toyota listened to the customers and made the E30 Corolla a more driver-centric vehicle, which rewarded Toyota with higher sales.
Despite its simple looks, the E70 Corolla gathered sales of 250,000 from the U.S. market alone in 1979.
The styling and design features were kept minimal with efficient use of resources. The North American market saw two different (and powerful) engine configurations – a 3T-C (1.8L i4) and a 4A-C (1.6L i4) engine. Both engines pushed out a healthy 75 and 90 horsepower, respectively.
The efficient and economical engines were available with a 4/5-speed manual or a 3-speed automatic.
Toyota Corolla Generation – 5th Generation (1983 – 1897)
The launch of the fifth-gen Corolla marked the start of the inclusion of a FWD drivetrain in all Corollas. Except for the AE85/86 model Corollas, all fifth-gen Corollas had an FWD drivetrain. Nevertheless, all future Corolla generations would retain the same FWD setup. Also, this time around, the fifth-gen (E80) Corolla used computer technology in its system, including the suspension.
The E80 Corolla wasn't much different from its predecessor in terms of styling. However, the range of engine configurations from 1.8L 4-cyl diesel engines to 1.6L 4-cyl DOHC/SOHC engines made the Corolla feel somewhat sportier. Also, from four-door sedans to two-door hatchbacks, Corolla's chassis design appeased several buyers.
In addition, the fifth-gen Corolla gave us the legendary Corolla AE86. The RWD-biased AE86 even made its way into the motorsport world through drift competitions, Group A and Group N, and club racing. Having been featured in the Japanese racing game manga series – Initial D, the AE86 is still considered one of the best JDM vehicles and an excellent drift car.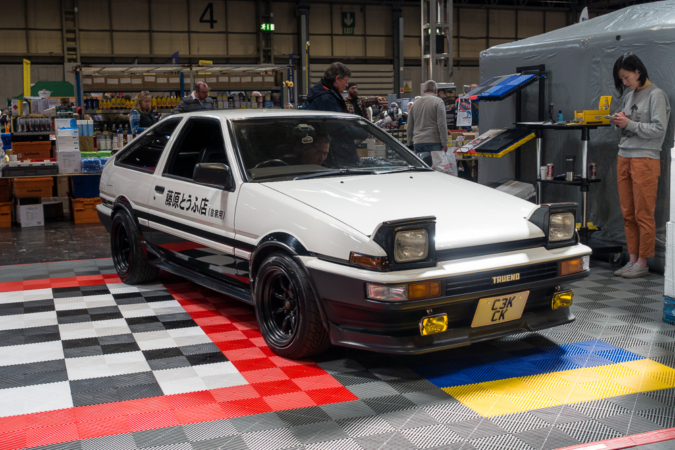 Luckily, the U.S. market got the Corolla AE86 and other Corolla chassis/body styles. Even today, a decent and well-looked-after Corolla AE86 (or the Sprinter Trueno as known in the Japanese market) can be bought for not less than $20,000.
Toyota Corolla Generation – 6th Generation (1987 – 1991)
In 1988, Toyota launched the sixth generation Corolla in the States. The sixth-gen Corolla now carried a bulky look with less sharp edges and boxier looks than its predecessors. The E90 Corolla's body lines were smoother, which gave the car a sleeker and more aerodynamic look. Other slight cosmetic changes included longer bumpers and stylish cabin air exit vents.
All E90 Corollas featured an FWD drivetrain except for a few all-trac AWD models. The 4WD all-trac station wagons were manufactured in limited numbers and shared the same bodywork and chassis as that of an AE92 Corolla sedan.
Also, in the U.S., General Motors (G.M.) sold the Corolla sixth-gen under different names, such as Geo Prizm and Chevrolet Prizm. In the North American market, the sixth-gen Corolla included the following engine configurations: 4A-F (1.6L 4-cyl @95 horsepower), 4A-FE (1.6L 4-cyl @102 horsepower), and 4A-GE (1.6L 4-cyl @115 horsepower).
Toyota Corolla Generation – 7th Generation (1991 – 1995)
A change of management was all that Toyota needed to make the seventh-gen Corolla look more round and bigger. A wider track and a solid/elegant body made the E100 Corolla's design resemble an (ES300) Lexus – a parent company of Toyota. The smooth body lines of the E100 added to the Corolla's aerodynamics and fuel efficiency.
Also, bigger interior space and a much more futuristic-looking interior made the E100 Corolla very likable amongst families. More importantly, to replicate a Lexus, Toyota made the E100 Corolla's ride much more comfortable.
Eventually, in 1993, the seventh-gen Corolla made its way into the U.S. markets. However, in the U.S., the subcompact category of the Corolla was dropped later on. Therefore, the U.S. buyers got to choose from only 2 Corolla chassis options – a 4-door sedan with a 1.6L 4-cyl engine @ 100/105 horsepower and a 4-door sedan/ 5-door wagon with a 1.8L 4-cyl engine @ 105/115 horsepower.
Despite the limited engine choices (and chassis designs) in some markets, the seventh-gen Corolla became the best-selling vehicle in automotive history.
Toyota Corolla Generation – 8th Generation (1995 – 2000)
The E110 Corolla looked somewhat similar to the previous-gen Corolla except for a few cosmetic changes. It even shared its platform (and some body panels) with the previous-gen Corolla for the sake of cost-cutting. However, Toyota made big changes to the E110 Corolla's engine configurations.
For the first time, Toyota introduced the 1ZZ-FE (DOHC 4 cylinder) engine made from die-cast aluminum. Toyota made other slight changes to the engine to shed weight and to improve the reliability of these engines. In the general market, Toyota sold the E100 Corolla under different trim levels, such as Base, XLi, GLi, and SE-G.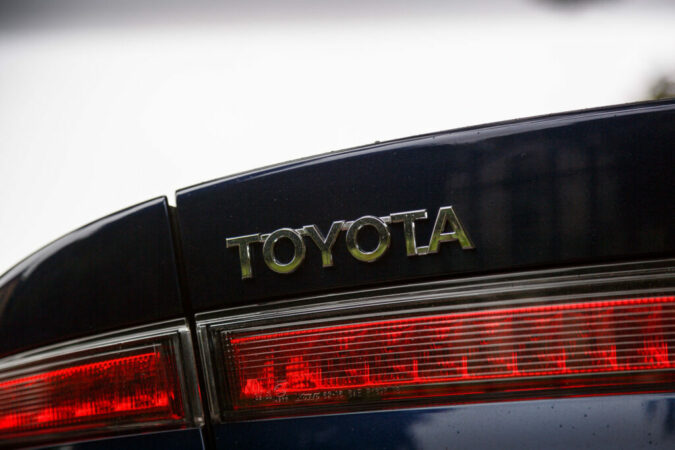 Also, some Asian/European markets saw the E110 Corolla under different chassis designs, including touring wagons, hatchbacks, and liftbacks. In the U.S., the Corollas were available only as four-door sedans. The trim levels included the base VE, C.E., and L.E. (later replaced by an S model). Also, later on, Toyota released another engine configuration that included VVT technology, which helped the E110 Corolla reduce emissions.
Toyota Corolla Generation – 9th Generation (2000 – 2006)
With the ninth-gen Corolla, Toyota came up with even better and more impressive styling. The elegant and sleek-looking styling was common in all Corolla chassis designs, including the hatchbacks, station wagons, and sedans.
Toyota sold the chassis designs under different (trim level names) and chassis styles depending on the region. Yet again, the North American market saw the ninth-gen Corolla E120 in the form of four-door sedans only. Also, the E120 Corolla was delayed until 2002 before being sold later in 2003.
The XRS model came in rare numbers, with only 7,000 examples worldwide. More importantly, the XRS could be equipped with an even better 2.4L dual-cam four-cylinder engine (found in the Toyota Camry), which pushed 170 horsepower. Coupled with a 6-speed manual gearbox straight out of a Lotus Elise, the Yamaha-inspired engine made the Corolla fun to drive.
The U.S. market's Corolla trim levels were C.E., L.E., S, and XRS (sold later in 2005/2006). Moreover, it carried the same 1ZZ-FE (DOHC 4 cylinder) engine as its predecessor, with the horsepower figures bumped up to 130. The engine came standard across all trim levels, including the C.E., L.E., and S.
Toyota Corolla Generation – 10th Generation (2006 – 2012)
As the years passed, the Corolla became even sleeker and well-equipped in terms of technology. Like the previous gen, the tenth-gen E140 Corolla was available in very different exterior designs in Japanese and other Asian/American markets. Nevertheless, the E140 Corolla sales in the U.S. began in 2008, almost 2 years after it was official (global) launch.
Also, the U.S. market saw 5 different trim levels of the E140 Corolla, such as Standard, S, L.E., XLE, and XRS. The equipment kept getting better as you stepped up the trim levels. Also, the interior room and interior quality were up a notch. Moreover, the suspension setup was much improved and vastly helped in handling.
Except for the XRS, all other Corolla variants received newer 2ZR-FE (1.8L 4-cyl) engines that made a humble 158 horsepower. The 1.8L engines achieved an impressive 27mpg (city).
Also, the gearbox configuration ranges from 5-speed manuals to 4/5-speed automatics, varying on the trim levels. In 2011, Toyota decided to discontinue the Corolla XLE and XRS variants.
Toyota Corolla Generation – 11th Generation (2012 – 2018)
Toyota heavily revised the eleventh-gen Corolla's design and driving dynamics. The Corollas sold in the Japanese (and other Asian) market(s) had very different exteriors (and interiors) from other Corollas sold internationally. The Japanese E170 Corollas went by Axio (4-door sedans) and Fielder (station wagons).
However, the North American market saw the eleventh-gen Corolla as sedans only. Moreover, the E170 Corolla was distributed in different grades (or trim levels), such as L, L.E., LE ECO, and S. Toyota made two 4-cylinder engines available for the E170 Corolla – 1.8L 2ZR-FE @132 horsepower and 1.8L 2ZR-FAE @140 horsepower.
Also, Toyota made significant changes to Corolla's transmissions. So, apart from the 4-speed automatic and the 5-speed manual, the Corolla was available with the new CVT-I gearbox. Toyota's new CVT-I gearbox helped the E170 Corolla reduce fuel consumption (and weight). As a result, the CVT-equipped Corollas gave better fuel economy and a seamless driving experience.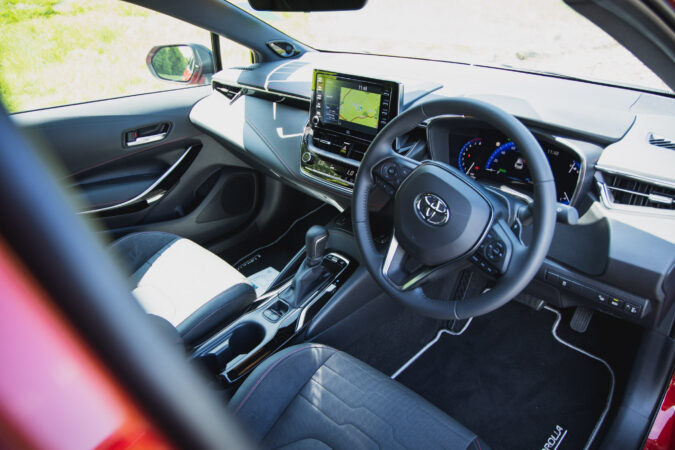 In the U.S., all E170 Corollas – as standard – came equipped with loads of safety systems, including ABS, VSC, TRAC, EBD, and Brake Assist. Also, a 5-star NCAP crash-test rating made the E170 Corolla safe for occupants.
Toyota Corolla Generation – 12th Generation (2018 – present)
For the twelfth-gen model year, the Corolla saw big changes in terms of technology, performance, and equipment. Besides the usual 4-cyl gas engines, Toyota started offering its hybrid motor technology in the Corollas. Such wasn't possible in the previous-gen (North American) Corollas.
More importantly, the North American region saw two different body/chassis styles – 4-door sedans and 5-door hatchbacks. As of now, U.S. buyers can choose from 5 different trim levels: L, L.E., XLE, S.E., and XSE. The 4-door sedans/saloons are available only with the lower three trim levels (L, L.E., and XLE). Meanwhile, the hatchbacks are available in the top two sporty trim levels (S.E. and XSE).
In terms of engine choices, Toyota offers two 1.8L 4-cyl engines, with one of them having a Hybrid Synergy Drive system. The hybrid engines achieve the same mileage as the Prius – 4.5L/100km.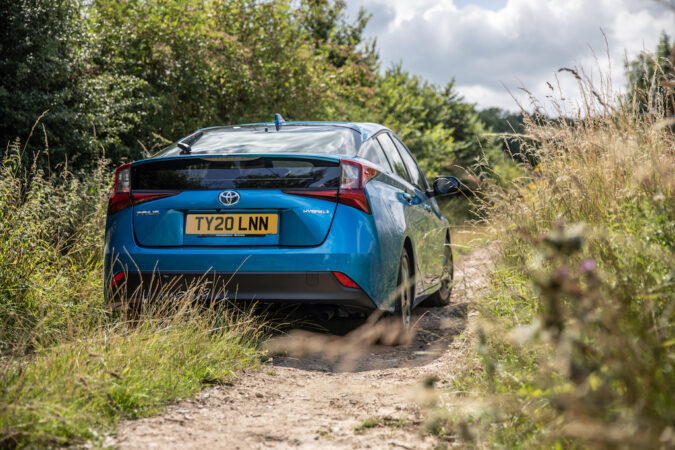 Toyota offers a 2.0L 4-cyl engine for sportier trim levels that pushes 169 horsepower from its FWD drivetrain. With a starting price of $20,430 (and a host of other safety features), the Corolla offers excellent value for money.
Best Years For Toyota Corolla
As stated earlier, reliability is among the few things you look for in a brand-new car. With Toyotas, the question is much simpler and less complex. All Toyotas, be it Corollas, 4Runners, Highlanders, Tundras, Tacomas, Prius, or Camrys, are highly reliable, durable, and economical.
With that said, there are some generations/models and some Toyota Corolla years to avoid. Not all 12 generations of the Corolla are considered reliable; some have adverse reliability whilst others are filled with flaws. Therefore, the subheading will focus on the best Toyota Corolla year (or years) and the Toyota Corolla years to avoid.
8th Generation – 1997
Even though a 1997 Corolla may seem pretty far back, it still is, no doubt, one of the most bulletproof Corolla that Toyota offered. According to several customer reviews, on average, an eighth-gen Corolla can easily give you 250,000 trouble-free miles.
An impressive 4.6/5 Edmunds.com customer ratings indicate how well the eighth-gen Corolla, specifically the 1997 model year, was appraised by people. Therefore, calling the 1997 Corolla model year the best Toyota Corolla year wouldn't entirely be wrong…
Also, the 1997 Corolla offered solid and well-built interiors that – for some – were ahead of their time. More importantly, the fuel economy wasn't bad either. The DOHC 4-cylinder engines were not only better top-end power but also helped the 1997 Corolla achieve a (combined) fuel economy figure of 28 mpg.
However, the only gripe with a 1997 model-year Corolla is its excessive oil consumption. Nonetheless, such an issue was present among all eighth-gen Corolla model years, especially the 2000 model year. The 2000 model-year Corolla accounted for almost 30% of the total owners' complaints of the eighth-gen Corolla. So, the 2000 model-year Corolla is among the Toyota Corolla years to avoid.
If you're in the market for a 1997 Corolla, there is a very high probability that the Corollas would have high mileage. Therefore, look out for the following common problems before buying a 1997 Corolla:
10th Generation – 2010
According to several (verified) customer reviews, the tenth-gen Corolla will make you forget you even had a car. With an impressive 4.2 consumer rating on Edmunds.com and a 4.8/5 rating from Cars.com, the E140 Corolla is built like a tank. Moreover, an excellent value-for-money car with a host of other safety features, including ABS, Traction Control, and Vehicle Stability Control, makes the E140 Corolla safe to drive.
In terms of fuel economy, the tenth-gen Corolla was not behind either. The 1.8L 4-cylinder engines achieved impressive fuel economy figures of 26 mpg (city) and 35 mpg (highway). The 1.8L engines were enough for those who wanted to reach from point A to point B in an economical manner.
If you're in the market for a tenth-gen Corolla, chances are that you won't be able to find it in a brand-new condition. That said, getting one in low mileage is possible (and preferred).
Also, you should avoid the 2009 model year Corollas, which were notoriously known for their array of problems and were subject to several recalls. For some, the 2009 Corolla may have been a great decision, but for several others, it was regarded as the most unreliable Corolla of all time. So, the 2009 model-year Corolla is among the top Toyota Corolla years to avoid.
Nonetheless, before buying a tenth-gen Corolla, make sure to tick off the following problems:
11th Generation – 2016
Pleasant ride quality whilst offering excellent (standard) features are some of the traits of the 2016 model-year Corolla. A J.D. Power consumer rating of 86/100 is evidence of why the 2016 model-year Corolla was the 2nd best-selling vehicle (in 2016). The eleventh-gen Corolla (2014 model year) was slightly behind in terms of looks. However, the 2016 (facelifted) Corolla was fully redesigned to give the Corolla an even smarter look.
Moreover, the eleventh-gen Corolla was the first Corolla to see a CVT gearbox, which meant smoother rides and less-jolting transmissions. The 2016 Corolla produced even more economical figures than before. For instance, the LE ECO Corolla trim level achieved a (city/highway) combined fuel average of 33mpg. Couple that with a roomy interior, standard features, and exceptional durability, and you've got yourself one of the best all-rounders.
You can easily find low-mileage examples of the 2016 Corolla for as low as $13,000 and as high as $20,000. With that said, if you are on the hunt for a (used) Toyota Corolla 2016 model year, here are some of the things you should look out for:
Frequently Asked Questions
What Is The Best Year For A Used Toyota Corolla
1997, 2008, 2010, 2016, and even 2019 model-year Corollas are some of the best (used) Corolla years you can opt for. All the afore-mentioned Corolla model years are excellent in their own ways. The decision for the best Toyota Corolla year may depend on your budget and your needs. For instance, if budget is not that big of an issue, you should consider the latter Corolla generations, including the 2014 – 2019 Corolla model years. However, if you prioritize budget (and availability), then 1997, 2008, and 2010 model-year Corollas are your answer. Before buying a used Corolla, ensure that the previous owner has proper (and regular) serving/maintenance history as it may affect the life of the Corolla. Also, make sure to go through the common problems of each generation (as discussed in the article) to ensure you get the best used Corolla.
How Long Do Toyota Corollas Last
The answer to the above question depends on several factors, including owner usage, regular servicing/maintenance schedules, and even local terrain. Toyota has mastered efficiency in its operations thanks to production methods, such as lean production and Kaizen. Therefore, all of Toyota's products are exceptionally well-built and made to last. That said, Toyota Corollas are said to last 300,000+ miles (or 10 years) given that it has maintained a proper service history and has been well cared for. Some first-hand owners have even extracted 400,000 miles (or 20+ years) from their Corollas with minor maintenance and repairs such as brake pads and fluids checked.
How Much Are Toyota Corollas
The (base/standard) 2020 – 2022 model-year Corolla costs $20,425 (excluding options). The cost goes all the way up to $28,710 for the XSE Apex Edition trim. Also, a Hybrid L.E. Corolla can set you back by $24,050 (excluding packages).
Are Toyota Corollas Good Cars
Yes, Toyota Corollas are known for their excellent reliability and value-for-money factor. Several owners have easily extracted more than 400,000 trouble-free miles out of their Corollas, showing how rock solid these cars are. Moreover, Corollas have been topping almost all reliability surveys, including J.D. Power, Cars.com, and Edmunds.com. Similarly, modern features (and fuel-efficient/intelligent Hybrid engines) have furthered the Corolla and made them even better. In addition, great technology, stylish interiors, impressive looks, adequate performance, and excellent fuel efficiency, all at affordable rates, make the Corollas great all-rounders. Therefore, it is no surprise that Corolla is the best-selling car in the world.
How Many Toyota Corollas Have Been Sold
Almost 44.1 million Corollas have been sold ever since the first-gen Corolla came out in 1966. For reference, a Corolla is sold per 15 seconds, which translates to about 5,850 Corollas sold daily. Also, the U.S. market saw more than 223,000 Corollas sales in 2021 alone.