Wondering what is Toyota's smallest SUV on sale right now? That would be the Toyota C-HR. A subcompact SUV that Toyota markets as a "lifestyle" SUV.
We're going to take a closer look at the C-HR in this article. We'll discuss the dimensions, specs and trim levels, price, and everything else you might want to know. We'll also take a look at its rivals and alternatives. Hopefully, this will be a helpful buying guide for you.
Note that this is not a test-drive review of the C-HR, but an analysis by compiling specs and reviews of the car. We'll link relevant reviews and articles in this post. Anyway, here's our table of contents to help you navigate:
Toyota's Smallest SUV: The Toyota C-HR
The C-HR falls into the subcompact crossover SUV class, this puts it against the Honda HR-V, Mazda CX-30, and Kia Soul. We'll get into the rivals later on.
As mentioned, Toyota markets the C-HR as a lifestyle crossover SUV. Here's how Germain Toyota of Columbus describes the C-HR: "the city-sized footprint of the Toyota C-HR is perfect for small spaces and narrow streets, it's also big on style and attitude."
Toyota emphasizes design and "attitude" in marketing the CH-R, hence why you'll notice the design is, shall we say, quirky. It has bulging wheel arches, sharp design cues all around, and even a swooping roofline that makes it looks like a coupe. Not to mention striking color choices.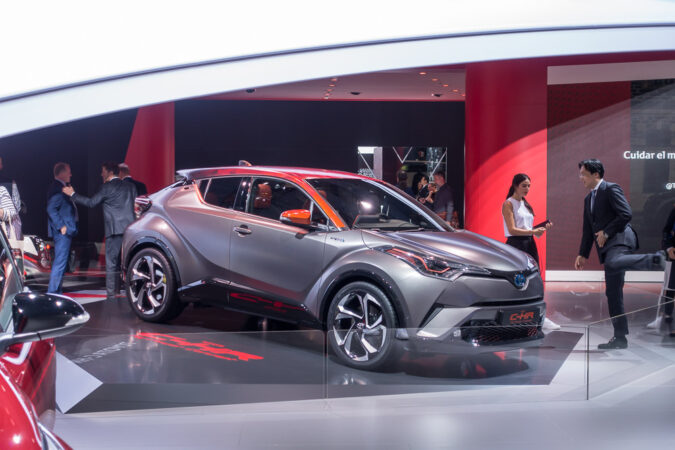 The C-HR measures 173-inches long, 71-inches wide, and about 62-inches tall. This makes it slightly bigger than its closest rival the HR-V in terms of length, but they're equal in width. And the HR-V is slightly taller.
To be honest, the design is a little "strong", and it's not going to be to everyone's taste. But let's not judge a book by its cover, let's take a closer look at the HR-V:
Toyota's Smallest SUV: Trim Levels, Specs, And Price
The C-HR comes in three different specs: XLE, Nightshade Edition, and Limited. They all come with the same 2.0L 4-cylinder engine with a CVT transmission. Power stands at 144 horsepower, and the MPG is the same across the range, which is about 29mpg combined. Additionally, it comes only in front-wheel drive.
Standard equipment is also largely the same. So, the difference is mostly in exterior styling. All CH-R gets the same audio system with 8-speakers, the same safety equipment such as a pre-collision system and blind-spot monitor, and the same air-conditioning system.
The base model XLE has an MSRP of $23,880. This gets you LED headlights, 18-inch vortex-style wheels, fabric seats, and keyless entry along with other standard equipment.
Meanwhile, the Nightshade Edition starts at $24,645. This trim is mostly about black accents, giving the car a more sporty look. Like the XLE, it still has fabric seats as standard. But you get black vortex-style wheels of the same size, black accents around the car, and a black chin spoiler.
Finally, the top-end Limited trim starts at $26,000, and this is where you get slightly more luxurious equipment. You get leather seats, projector LEDs, fog lights, and turbine-style 18-inch wheels. It also has chrome accents on the interior but we actually prefer black accents over chrome.
So, the difference is mostly in equipment and exterior trims. The engine, transmission, and suspension are all the same. Hence why the price difference between each trim level is fairly minimal. Which one should you get? Not so fast there, let's take a closer look at how the car actually drives before you decide:
Toyota's Smallest SUV: What's The C-HR Is Like To Drive?
The bold and sporty styling may lead you to believe the C-HR is a fun-to-drive sporty SUV. Maybe it's a small SUV that's going to be lovely to drive on a mountain road, making you grin and spicing up your morning commute. Maybe it's a Porsche Macan but less powerful and cheaper?
No. Not at all. Not even close. To be fair, the C-HR handles quite well. Some reviews have noted that the handling of the C-HR is playful. It's has a reasonably firm ride, controlling and minimizing body roll. But not so much that it becomes too uncomfortable for daily driving.
The problem comes from its powertrain. The 144 horsepower and 139lb-ft of torque figures from the engine are respectable and are enough to get the car going. But pair that with a CVT and you get a powertrain that is as bland as unseasoned potatoes. Cue Gordon Ramsay memes.

Again, the engine is respectable. But the CVT means when you put your foot down the loud pedal, it does exactly that: the engine's RPM will climb, stays there, and makes droning noise that's hardly pleasant. And that's about it, it won't really go that much faster.
The C-HR could benefit from a turbocharger. Or maybe use a conventional automatic, or maybe even have a manual as an option. However, as it is, it won't be an exciting car to drive. CVTs and small engines don't typically work together very well.
Toyota's Smallest SUV: Is The Toyota C-HR A Good Car?
So, not a great car then? Well, if you're looking for something interesting to drive, not really. However, it does come with lots of equipment as standard. Even the base model has an 8-speaker system with Apple CarPlay and Android Auto, which is a big plus in my book.
It also has a lot of safety features, such as 10 airbags, blind-spot monitoring, and pre-collision warning. These are all standard even in the base model, so we've got to commend the C-HR for that.
So far, it seems that the C-HR is a decent SUV, but falls short in the powertrain department. But to come to a verdict, we've got to take a look at its rivals:
Toyota's Smallest SUV Rivals
Before you decide on buying any sort of car, it's important to take a look at its rivals. Even if you love the C-HR for its styling, some might be better in terms of powertrain, driving dynamic, equipment, or overall value. Spoiler alert: there are better options.
The C-HR has many rivals, such as the aforementioned Honda HR-V, Mazda CX-30, and VW Taos. However, we're not going to include the HR-V since a new model is coming soon, and the current one is quite ancient. Also, I've driven the HR-V, and trust me when I say it's best to look elsewhere.
Let's start with the top three rivals that we think are worth considering:
1. Mazda CX-30 – Best All-Rounder
The Mazda CX-30 is about the same size as the C-HR. However, it's slightly cheaper, with MSRP starting from around $22,200 for the base model. This gets you a naturally-aspirated 2.5L 4-cylinder engine making 186 horsepower, and 6-speed conventional auto transmission.
The CX-30 comes in eight different trims, and three trims come with a more powerful 2.5L turbo engine making 250 horsepower. Additionally, all models come with an all-wheel-drive system as standard. This means the CX-30 uses slightly more fuel, but the AWD system means you don't have to worry too much during bad weather.
The 'Select' trim is probably the best value of them all. It starts at around $24,600 which gets you blind-spot monitoring, dual-zone climate control, and a power tailgate. Additionally, it gets larger 18-inch wheels which looks much better than the base trim.
As far as driving goes, the CX-30 is miles ahead of the C-HR. Literally, and figuratively. The engine is plenty powerful, and the auto transmission may be clunky at times but we'd take that over a CVT. Meanwhile, the handling is excellent; the body roll is minimal, and the steering feels great.
Like many other Mazda cars, the CX-30 is a fun-to-drive and good-value car. Keep in mind you'll have to get the Premium trim or above for leather seats. Other trims come with either leatherette or cloth seats (it helps to learn how to get stains out of car seats).
The only fly in ointment is that the Mazda 3 hatchback offers similar practicality and price while being better to drive. The CX-30 is slightly taller, giving you better peace of mind when going through standing water or rough roads. But the Mazda 3's driving dynamic is truly enticing.
2. Hyundai Kona – Wide Range Of Options
There's a total of eight different Kona that you can choose from, so there's likely to be something for you in the lineup. Prices start at $21,300 for the base model Hyundai Kona, which comes with a 2.0L naturally-aspirated 4-cylinder engine making 147 horsepower, transferred through a CVT transmission. It comes either as a front-wheel drive or all-wheel drive.
However, we recommend either the N-Line or the Limited trim. They costs about $25,850 and $28,600 respectively. They're considerably more expensive, but these versions get a more powerful 1.6L turbo engine mated with an excellent 7-speed dual-clutch transmission. As a result, they're far better to drive.
Equipment between the two top models is largely similar. But the Limited trim comes with leather seats, a larger 10.25-inch infotainment screen, Apple CarPlay & Android Auto, a digital instrument cluster, and many more features as standard. Keep in mind that certain features are available as an optional extra in the N-Line.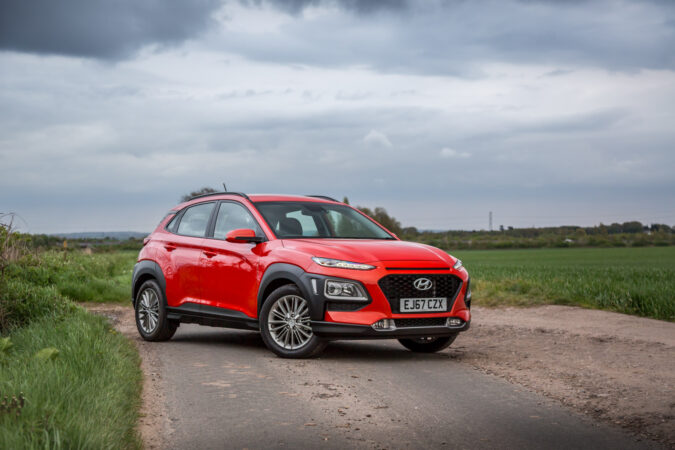 You'll notice the Kona costs more than the C-HR, especially if you want features that are standard even in the base model C-HR. However, the Kona is available with a more powerful engine and it drives better. Additionally, all Hyundai comes with a 5-year/50,000-mile warranty, as opposed to Toyota's 3-year/36,000-mile warranty, giving you better peace of mind.
Moreover, the Kona is available as a Kona N, which is a higher-performance version with 276 horsepower. If you want a performance-oriented subcompact SUV, this is the only way to go. However, the price starts at a hefty $34,200.
If you're thinking of going electric, there's also the Kona Electric. Prices start at $34,000, but the Limited trim will cost at least $42,000. Both of them come with a 201 horsepower electric motor and has an estimated range of 258 miles.
3. Kia Soul – Best Value
The Kia Soul looks more like a compact minivan, reminiscent of the now-deceased Scion xB. However, it's still technically a crossover SUV and a rival to the Toyota C-HR. While it's similar in size to the Kona, it's built on a different platform.
This is the cheapest amongst its rivals, with prices starting at $19,290. There are six trims available, and we think the EX is probably the safest choice, costing around $23,590. This gets you larger wheels and a better infotainment system than the standard model, more active safety features as standard, and remote start with a key fob amongst others.
However, it still comes with the 2.0L 4-cylinder engine making 147 horsepower with a CVT transmission. Many reviews note that it's still decent to drive, but there is a Turbo model available. As you'd expect, this is the model we truly want.
The Turbo starts at $27,890, but you get a 1.6L turbo engine making 201 horsepower mated with a 7-speed dual-clutch transmission. This version also comes with a power sunroof, 10-way power-adjustable seats, and Harman Kardon speakers along with many other features.
Additionally, the Turbo (along with the mid-range GT and X-Line) has sport-tuned suspension. However, we're not sure if it translates to better handling or driving dynamics.
Overall, the Kia Soul is also a decent choice if you're looking for something that looks a bit different. Additionally, it's cheaper than the C-HR but still comes with decent equipment. There's also a manual available for the base model.
Toyota's Smallest SUV Rivals: Honorable Mentions
We think you can't go wrong with any of the choices above. But if you're still not sure, there are other options you could consider. Here's a list and a quick summary of the cars:
Volkswagen Taos. Decent car all-around, and offers a lot of space and great fuel consumption. But modern VW has lots of reliability issues.
Subaru Crosstrek. Reliable, practical, and comfortable. But top models only come with a CVT. Additionally, it's no more capable offroad than its all-wheel-drive rivals despite what Subaru might lead you to believe.
Hyundai Venue. Small yet practical, about the same size as the C-HR. And has a more restrained look, which we rather like. Cheaper than the C-HR too, with prices starting at around $19,000. But only comes with a 1.6L engine making 121 horsepower paired with a CVT.
If you absolutely must get the cheapest available option, then the Hyundai Venue is for you. It's cheap, has decent equipment, and comes with Hyundai's industry-leading warranty. Just don't expect to be going anywhere fast with that 121 horsepower engine.
Other rivals you might be interested in are the Nissan Rogue Sport, the Jeep Renegade, and Chevy Trax. However, we believe these are not quite as good as the other cars we've mentioned.
If you're a fan of Honda, the new HR-V is coming. But you'll probably have to wait until mid-2023. It might be worth the wait though, as there's a hybrid and electric version. But there is no confirmation which models they're bringing to the US.
Other Toyota SUVs
Toyota makes other SUVs too. While the C-HR is technically the smallest, the new Corolla Cross is also small and it doesn't have that lifestyle marketing and sporty pretensions that the C-HR has. We would argue the Corolla Cross is the "true" Toyota's smallest SUV.
As the name suggests, this is based on the Corolla platform, but taller and slightly larger. It measures 176-inches long, 72-inches wide, and 65-inches tall. So, only very slightly larger than the C-HR. And still smaller than the RAV4.
If you want a small Toyota SUV, we would actually recommend this over the C-HR. There are three different trims, and the base L model starts at $22,195 which is cheaper than the base C-HR. Meanwhile, the top model XLE is around $26,325 which means it's only very slightly more than the C-HR.
All of them come with a 2.0L naturally-aspirated engine paired with a CVT transmission just like the C-HR. However, the engine makes more power at 169 horsepower and 151lb-ft of torque. Additionally, an all-wheel-drive system is available as an optional extra.
Admittedly, a base model C-HR is more well-equipped. But the Corolla Cross is more powerful, slightly more practical, and available with all-wheel drive. If you don't care for the C-HR's bold styling, this is the better option.
Toyota's Smallest SUV FAQs
Still, got more questions about the Toyota C-HR and other Toyota SUVs? This FAQ section might be helpful:
What Does Toyota C-HR Mean?
C-HR stands for Compact High Rider, Cross Hatch Run-about, and Coupe High Rider. The first meaning is pretty self-explanatory; it's a compact car that rides higher than other compact cars such as hatchbacks and sedans.
The Cross Hatch Run-about thing also describes what the car is; it's a crossover that looks like a hatchback and is made for, well, driving about. The Coupe High Rider refers to the coupe-style swooping roofline of the C-HR. Makes sense? Don't worry if it doesn't, car names seldom make sense.
Is The Toyota C-HR A Hybrid?
No, but there is a hybrid version available in the European and certain Asian markets. No words on whether or not they're bringing the hybrid version to the US, which is weird since many Americans do prefer hybrids.
Other rivals also aren't available in hybrid either. But as mentioned, you can go full electric with the Hyundai Kona. If you want a small hybrid SUV, you'll have to buy the Lexus UX which starts at around $35,350.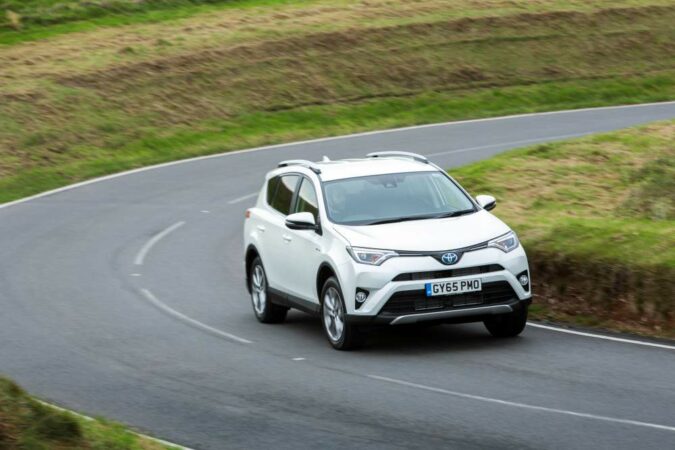 You can also consider the RAV4 Hybrid, which starts at a lower $29,075. It's a great car and is surprisingly fast, but it's quite a bit larger than the C-HR and even the Corolla Cross.
Is The Toyota C-HR Fast?
In a word, no. As mentioned, it still has enough power to get going and is certainly faster than the 121 horsepower Hyundai Venue. But the CVT makes it feel more sluggish than it really is, and it's not going to be as fast as some of its rivals.
Does The C-HR Have Sunroof?
No, it does not, even in the highest trim version. If you value sunroof, you're going to have to look elsewhere. Note that it's usually available in the higher-trim models, such as in the Preferred trim of the Mazda CX-30.
Is The Toyota C-HR Reliable?
It's not the most unreliable car you'll ever find, but it's surprisingly not as reliable as you might expect, especially since it's a Toyota. JDPower gives it a predicted reliability rating of 80/100, which puts it about average.
If reliability is of the utmost importance, Mazda and Hyundai have had a great reliability record over the past few years. They even beat Toyota in some reliability surveys. And as mentioned, Hyundai in particular comes with a 5-year/50,000-mile standard warranty, and a 10-year/100,000-mile powertrain warranty, the best of any car brand in the US.
Is Toyota C-HR Expensive To Maintain?
According to CarEdge, the C-HR will cost about $5,425 to maintain in its first 10 years of service. This is higher than the industry average of SUV models, which is around $3,455.
And if you're wondering about insurance rates, the C-HR costs $1,250 on average to insure annually, according to insuraviz. This makes them cheaper to insure than larger SUVs, such as the RAV4 and Honda CR-V. However, your insurance quote may differ as many factors can affect this.
Facts about Small Toyota SUVs:
The smallest Toyota SUV is the subcompact Toyota C-HR, which is smaller than a Prius.
The C-HR has a total length of 172.6 inches and a five-passenger seating capacity.
A small SUV is often the sensible choice for most drivers due to their lower maintenance costs and higher fuel efficiency.
The C-HR offers standard Toyota Safety Sense 2.5 driver assistance suite and a cargo space of 19.1 cubic feet.
The C-HR is criticized for its sluggish acceleration, excessive road noise, and reluctance from its 144-hp four-cylinder engine.
Other small Toyota SUV models include the Corolla Cross and the RAV4.
The Corolla Cross is a compact, perky crossover version of the Corolla sedan with a starting price of $23,780 and a cargo space of 25.5 cubic feet.
The RAV4 is the most popular Toyota SUV model, with a starting price of $28,310 and a seating capacity of five. It offers generous cargo space, quick acceleration, and a light-duty off-road edition.
The Hyundai Kona, Mazda CX-30, and Honda CR-V are some alternatives to Toyota's smallest SUV.
The Honda CR-V offers spacious seating and cargo volume, optional hybrid powertrain with competitive fuel economy, and a starting price of $28,045.
Toyota's Smallest SUV: Verdict
By now you can probably guess our verdict on Toyota's smallest SUV, the C-HR: we don't like it. The styling is certainly one of a kind, and it has decent road manners, is relatively practical, and the handling isn't bad either. But the mediocre engine, paired with an awful CVT transmission makes it feel sluggish and bland to drive.
If there's a turbo engine option, a manual, or even a conventional automatic, we might be singing a different tune. Some reviews also note that the hybrid version packs more punch, but as mentioned, there's no word on whether or not the hybrid version is coming to the US.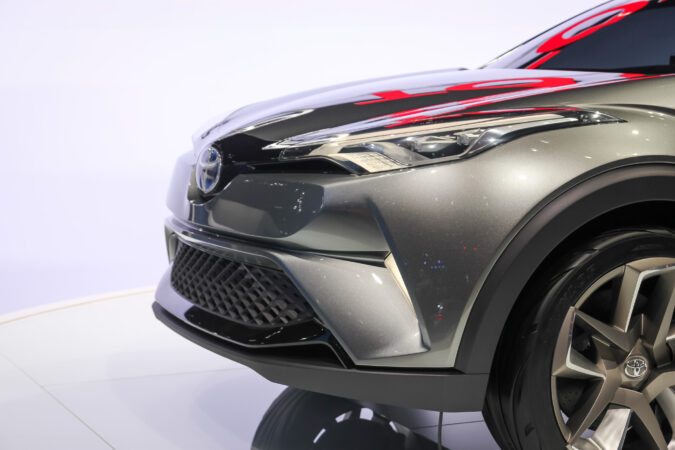 As it stands, Toyota's smallest SUV is not something we'd recommend, unless you absolutely love the looks of it. Instead, we recommend taking a look at its rivals:
The Mazda CX-30 is the best all-rounder, and the one I would personally get if I'm looking for a subcompact crossover SUV. The Hyundai Kona is also worth considering, but I'm not a big fan of the styling. And if you must buy a Toyota for whatever reason, the Corolla Cross is a far better option than the C-HR.